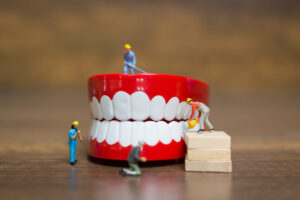 Did you know that we have two cosmetic treatments that can be conducted in a single visit, and address more than one esthetic imperfection at the same time? For many, dental bonding and contouring can offer conservative smile makeovers in only one appointment. In today's blog, your Omaha, NE, dentist talks about the benefits of these cosmetic treatments!
Dental Bonding
The dental bonding procedure uses composite resin to repair a tooth, the same material employed as part of our tooth-colored fillings. The material contains no metal and is safe for all ages. The placement process involves our team cleaning the tooth and removing any decay before we etch the surfaces and apply the material in several layers. As we sculpt the tooth and the material, we cure the composite resin beneath a light. Finally, we polish it for a brighter appearance.
In one visit, our team can repair minor cracks and chips, lengthen worn down teeth, and reshape malformed structures as well. The procedure can close unsightly gaps between the teeth and even mask permanent teeth stains instantly!
Cosmetic Contouring
Contouring can be done in the same visit or a separate one, and involves gently sanding and buffing the outer structure to correct multiple cosmetic concerns. For example, we can correct the appearance of minor chips, and reshape overly large teeth. We can correct misshapen structures too, and dull sharp, jagged, or pointed portions of your teeth. The procedure can also smooth out the rough, grooved, or pitted portions of outer tooth structure.
Keeping Your Smile Bright
To help protect your smile from concerns like tooth decay or periodontal disease, and to ensure your newly restored tooth continues to look great, you should maintain good oral hygiene habits. Every six months you should see our team for a simple checkup and cleaning, so we can keep an eye out for the earliest signs of trouble, and also remove the plaque and tartar buildup that could impact the health and beauty of your teeth. At home, you should cut back on foods and drinks high in sugar and starch, and take time to brush twice a day and floss every evening. These actions can help you enjoy your best smile following treatment.
If you have any questions about our approach to cosmetic dentistry, or about bonding and contouring in particular, then contact our team today to learn more. Everyone deserves a bright and beautiful smile, one with results that can last for years to come.
Enjoy a Brighter Smile In Omaha, NE
We would love the opportunity to help you obtain a smile that makes you feel confident. To learn more about how we repair and restore smiles in one visit, then give us a call at Pacific Hills Dental in Omaha, NE at (402)330-2243!