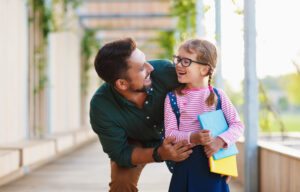 Before they head back to class for the fall, take some time to keep your little one up to date with their checkups. Just like you do, your child needs a dedicated cleaning and examination of their smile at least twice each year, and an accelerated schedule of visits can be helpful for some. Speak with your dentist about their timeline of visits to the office, and then be sure to follow through with these appointments.
With our team of caring preventive and children's dentistry experts in Omaha, NE, you have an opportunity to give them vital tools in maintaining their smile as they grow with semiannual dental checkups. Setting these visits around the beginning of a new school year can bring multiple benefits for both you and your child, including giving them a great start to the term. This approach can also help you to remember their appointments, helping you to keep to a positive schedule of preventive care. Make the effort and give them a fresher smile for the start of their school year!
Their Dental Habits Start Early, So Help Them Understand Their Care
When it is time to head back to school for the fall, give your little one the confidence they need to be successful with a cleaner and safer smile. Their semiannual checkups are a vital step in their oral health development, and planning these visits around the start of the new school year can be helpful for a variety of reasons. Like with your appointments, theirs starts with a dedicated cleaning of the surface of their teeth, helping them to have a smile free of plaque and tartar buildup. We are also proud to be a source of oral health education, so let them know to ask any questions about their dental needs. Their dental habits start at an early age!
A Back-To-School Can Give Them Ownership Of Their Smile
Sometimes, children can struggle with their oral health maintenance. When you tie their semiannual checkup to the start of their school year, you can make this important health process a part of growing up. This can help them to feel calmer and more confident when visiting the dentist, because they have a better understanding of the role that their treatment plays. Scheduling appointments around this time of the year can also help you to remember their last visit!
Caring Prevention With A Back-To-School Checkup At Pacific Hills Dental In Omaha, NE
As your child heads back to school for the fall, take the time for a cleaning and examination for your little one. To schedule their next semiannual checkup, give us a call at Pacific Hills Dental in Omaha, NE at (402)330-2243!