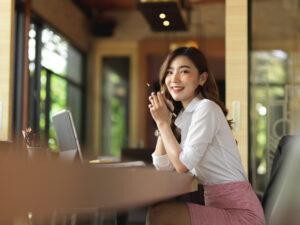 If you have started to see that your smile is not as bright as it used to be, take this opportunity to talk with a trusted team of dental professionals. The accumulation of stains on your enamel can be annoying, as they might remain even with a dedicated approach to brushing and flossing. When you need to see an improvement to the appearance of your smile, the training and experience of a dentist can help you to keep your oral health in mind through the cosmetic process.
With our expert staff in Omaha, NE, you can achieve a brighter smile with professional teeth whitening. While there are many available over-the-counter options at your local supermarket, these products can be ineffective at removing your problem stains. This situation could lead you to repeat their use, which can lead to weakened enamel due to overbleaching. Instead, speak with a qualified dentist about your oral health needs in order to keep the strength of your smile at the forefront the entire time. We can help you to see results with two different forms of whitening!
Start Your Teeth Whitening Process With A Dental Checkup
When you are looking at making a positive smile improvement to the coloration of your teeth, talk to a talented dentist before you make a change. Schedule your next semiannual checkup in order to learn about the causes of your condition. While the buildup of problem stains on enamel may be the cause, you want to receive a helpful diagnosis from your provider before you attempt an over-the-counter option. Internal discoloration requires a different form of treatment.
Supermarket products have gained popularity over the last few years, but there can be problems associated with their use. When these options are ineffective, they may lead you to repeated use, which can weaken your enamel, causing dentin sensitivity.
You Have Options In Your Cosmetic Teeth Whitening
After your dentist has given you a diagnosis of extrinsic enamel staining, you can talk to them about your available choices in treatment. Our office gives you two distinct options in order to help you to find a solution that works for you.
We can give you a custom set of whitening trays that fit your teeth perfectly. Simply fill these with our lifting agent and wear them for the time that your dentist prescribes. If you are in need of an immediate solution, ask about in-office treatment, which can improve the shade of your enamel in a single visit!
Learn More About Cosmetic Teeth Whitening With Pacific Hills Dental In Omaha, NE
When you want to see a brighter smile in the mirror, reach out to our helpful team of dental professionals. To schedule an appointment or to learn more, give us a call at Pacific Hills Dental in Omaha, NE at (402)330-2243!