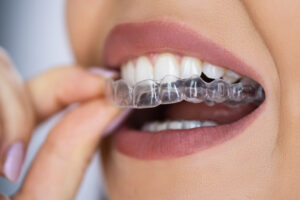 When deciding to correct problems with the spacing of your teeth, knowing all of your available options helps you understand the benefits of each. When your teeth are misaligned, this condition contributes to oral health problems and can affect the quality of your smile, but some may find the idea of traditional braces rather invasive. Orthodontic treatment with clear aligners can mask the appearance of your appliance with its translucent look. This allows you to adjust the position of your teeth without calling attention to yourself during the correction period. Let others know about your new smile on your own terms with clear aligners from Pacific Hills Dental.
At your Omaha, NE dental practice, we can improve the cosmetic and functional quality of your smile with an orthodontic solution that is easy to use. The removability of clear aligners allows you to easily clean your teeth during the treatment period. Enjoy your meals without worrying about debris becoming stuck in your appliance. Ask your dentist how clear aligner treatment can benefit your grin!
The Importance Of Your Bite Alignment
An imbalance of your bite can progressively harm your overall oral health. Also known as malocclusion, an uneven bite applies disproportionate force to teeth that cannot handle additional pressure. This can lead to erosion of their enamel and a loss of height that gives a stubby, worn appearance.
Crowded teeth can also prevent you from properly cleaning them. When teeth are straight, you can easily access their surface with your brush and floss, but crooked teeth create areas for bacteria to hide and build plaque. To prevent decay and gum disease, consider orthodontic correction to improve your oral health.
Wearing Your Clear Aligners
To create your clear aligners, we will take three-dimensional measurements of your bite using precise cameras. This allows us to create a digital impression for designing your set of aligner trays. Because each person's bite is unique, your trays offer an individualized shape to guide your teeth into position.
The success of your treatment corresponds to wearing your aligners as directed. While you may remove them when brushing or enjoying a meal, your dentist will instruct you to wear them throughout the day and while you sleep. This solution prioritizes your comfort without the need for any protruding wires.
Talk To Your Omaha, NE Dentist About Correcting Your Smile With Clear Aligners
Wearing clear aligners can bring your teeth into position without being noticeable to others. This solution allows you to avoid traditional braces, but enjoy the benefits of a straighter smile! For more information or to schedule an appointment, reach Pacific Hills Dental in Omaha, NE at (402) 330-2243. We also proudly serve patients who live in Papillion, Elkhorn, La Vista, Millard, and all surrounding communities.