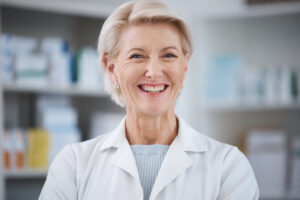 As you age, there are additional health concerns that you should take into account, and some of these center around your dental needs. Your bone density, for example, is something that changes after you reach the age of fifty. This change can become a liability in a few different ways, including the formation of pockets between the surrounding tissue and your teeth. Periodontitis is a concern among people of all ages, but the risk increases as you age.
At Pacific Hills Dental in Omaha, NE, we are here to help you navigate the chances in your health as you age. If you require an extraction of one or more of your existing natural teeth, we proudly offer biocompatible dental implants, so that you can retain your bite function. In addition to its benefits to the function of your mouth, an implanted prosthodontic solution can give you a gorgeous tooth replacement that appears as if it is a natural part of your smile. Speak with our team and see if you qualify for the placement of a new dental implant!
Your Risk Of Tooth Loss Increases As You Age
After the age of fifty, you should be aware of some of the changes to your dental needs, and one of the most significant is a loss of bone density. Osteoporosis is known as a silent illness, as without a bone scan, you cannot visually notice the change in this tissue. If your doctors have you on a particular regimen of supplements, always be sure to follow their directions.
In addition, stick closely to the schedule of cleanings and examinations that your dentist gives to you. People of all ages need to see their oral health provider every six months, and some patients require more frequent appointments due to genetic factors.
How Biocompatible Dental Implants Can Help You
When your age-related dental concerns lead to the loss of one or more of your natural teeth, a dental implant provides a helpful replacement. This approach uses a strong titanium rod that is placed within your jaw bone material, and as you heal, your body creates a tight bond with your new post. Afterward, your provider attaches a permanent replacement that blends in with your existing teeth. Dental implants can be a positive step for those missing a single tooth, as well as those who are needing a more extensive repair, so you can smoothly adapt your solution as you continue to age.
Speak To Us About Dental Implants In Omaha
Take some time to schedule an appointment with Pacific Hills Dental in Omaha, NE at (402) 330-2243 and discuss all of your age-related oral health concerns with a caring provider. We can help you to adapt with the use of a biocompatible dental implant.