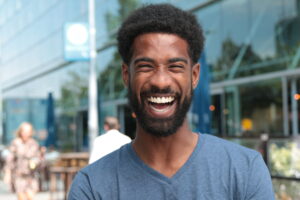 If your otherwise lovely smile is marred by one tooth that looks out of place due to its shape, color, or condition, discussing cosmetic dentistry with your Omaha, NE dentist can be beneficial. what you can discover is that it will take less time and work to make a fix to this problem tooth. A dental bonding procedure is able to hide flaws while reshaping teeth as needed to improve a patient's appearance. You can see results in as little as one appointment, and you can enjoy them without the need for a permanent restoration.
A Single Flawed Tooth Can Seriously Disrupt Your Smile
The overall value of your smile can be seriously compromised by just one tooth. That single tooth takes away from your facial symmetry, and its deviation from its neighbors can turn it into a focal point for others. Whether the problem is with damage, discoloration, or natural problems with shape and size, this is an issue that can be difficult to tolerate. Fortunately, it can take less time and overall work to make the changes that you desire. Through tooth bonding and contouring work, we can reshape, resize, and recolor teeth as needed to make sure they no longer cause feelings of self-consciousness.
Undergoing A Conservative Tooth Bonding Procedure
Through conservative tooth bonding and contouring work, we can make careful changes to the way certain teeth look without requiring multiple appointments or permanent restorations. The contouring process is effective at reducing teeth that are too large in size. The bonding treatments we perform help with discoloration, damage, concerns about teeth that are too small, and even issues with spacing.
More Solutions For Misshapen, Damaged, Or Discolored Teeth
There are different strategies that can help people who have concerns about how they look and wish to pursue cosmetic dental work. While porcelain veneers require more preparatory work, they can provide more durability, which means preserving your results becomes easier. For any teeth that need more protection and not just cosmetic care, we can make plans to provide dental crowns. These restorations completely surround teeth, but they offer functional support that can benefit your bite function. We do offer surprisingly convenient care with crowns, as we have the technology to produce and place them in just one appointment.
Talk To Your Omaha, NE Dentist About Tooth Bonding Treatment!
By arranging a tooth bonding and contouring procedure with us, you can make sure that one frustrating tooth flaw no longer takes away your confidence in the way you look. If you have questions about what the right service can do for you, or if you want to know about your other options for treatment, contact your Omaha, NE, dentist, Dr. Pietrok, by calling (402) 330-2243.