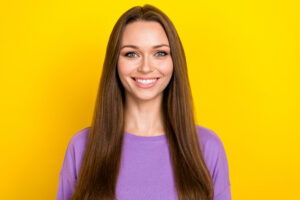 Many people who have an interest in cosmetic dentistry hope to fix relatively minor, but hard to ignore, flaws. What may make them uneasy about treatment is the idea of a longer, more involved process to fix a specific issue. At our Omaha, NE dentist's office, we can actually provide an approach to care that minimizes your need for work on your tooth structure. Through dental bonding and contouring treatment, we can correct issues with teeth that are misshapen, damaged, discolored, or otherwise flawed by making careful corrections. Because we do not have to place a permanent restoration, this work can be completed in just one appointment, and it can have lasting benefits while only making minimal changes to your enamel!
Are You Uncomfortable With Your Smile?
If you have any doubts about your smile, it can be difficult to feel confidence in your overall appearance. Our teeth can be counted on to receive attention when we smile and speak, so even minor problems with discoloration, damaged enamel, spacing, or other concerns can be focused on by others. This can make it harder to feel happy with the way you look, but this does not mean you have to accept that there is nothing you can do to fix this problem! With a dental bonding and contouring procedure, we can fix trouble with a tooth that stands out, and we can do so while minimizing the overall changes to your tooth structure.
Booking An Appointment For Tooth Bonding And Contouring
During your tooth bonding and contouring appointment, we can perform a procedure that alters a tooth's shape, size, and color without the need for permanent restorations. The contouring process is an effective way to reduce the size of a larger tooth and correct problems with one that looks jagged or chipped. The bonding treatment uses composite resin to cover problems like discoloration and damage, as well as to add size to a smaller tooth.
Talk To Your Dentist About All Of Your Options For Smile Care
Bonding and contouring work can have a remarkable effect on how you look, but it is not the only way you can change your smile! With porcelain veneers, we can cover different issues with the way you look with slim restorations that cap the fronts of your teeth. Their placement can require more time and effort, but you can count on the results you see to last longer thanks to the durability of these slender shells.
Schedule Dental Bonding And Contouring Work With Your Omaha, NE Dentist!
Through dental bonding and contouring work, we can offer exciting cosmetic changes while minimizing the time and work needed to give you the results you want! If you would like to find out more about how we can help you, please contact your Omaha, NE, dentist, Dr. Pietrok, by calling (402) 330-2243.