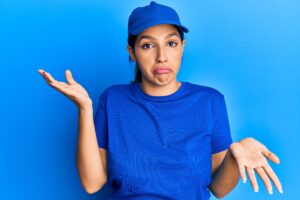 The extra space between two of your teeth can be a sign of a larger problem with malocclusion. It can also be a concern on its own, as it can attract negative attention and throw off your symmetrical appearance. In other words, it is the kind of problem that many people can be eager to treat. By bringing up your concerns over your misaligned smile to your Omaha, NE dentist, you can find out about different services that can help you. We offer different approaches to cosmetic dentistry, and we can work with you to make sure you see the right results and have the right experience with treatment. Your options for work include and adjustment with clear aligners, which means you can enjoy corrective work without ever wearing metal braces.
Poor Teeth Spacing Can Make People Uncomfortable With How They Look
Problems with poor teeth spacing can attract unwanted attention and make it harder for people to feel confident in the way they look. One common problem with poor spacing is that it leaves gaps between teeth. Extra space can be difficult to ignore, and it can become a focal point that you would prefer people not focus on whenever you smile and speak. One reason people hesitate to say something about their desire to fix this issue is that they worry about what treatment will involve. If you are someone who suspects it will take metal braces to close a smile gap, exploring cosmetic dentistry options with your dentist can provide you with exciting alternative solutions.
Using Clear Aligners To Improve Problems With Your Appearance
By relying on clear aligners to close a gap in your smile, you can see the improvements you want while still minimizing the impact of treatment on your daily life. Several advantages to this service over metal braces can be enjoyed. They make it easier to fit care into your daily life because they are hard to see and because you can easily remove them to eat and clean your teeth. They offer these benefits while still doing the work of guiding teeth so that they are in their appropriate positions.
Other Services That Can Hide Gaps And Other Flaws
There are patients who can qualify for care with porcelain veneers in order to hide a gap. If you have undersized teeth or minor spacing issues, veneers can be prepared to cover a gap and give you a more symmetrical smile. Through this one service, we can also take on discoloration, problems with dental damage, and other matters that make people unhappy with the way they look.
Talk To Your Omaha, NE Dentist About Dealing With A Gap In Your Smile
To find out more about how clear aligners and other cosmetic dental services can benefit you, please contact your Omaha, NE, dentist, Dr. Pietrok, by calling (402) 330-2243.