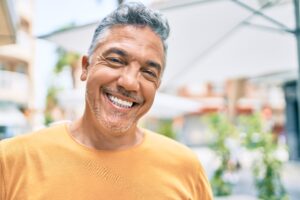 The reason one patient decides to ask about cosmetic dentistry can different from the reason why another brings up an interest in treatment. However, because porcelain veneers are effective at taking on different flaws, they can be recommended to patients who have different goals. At our Omaha, NE dentist's office, we can rely on veneers to take on many different issues. They can prove effective at treating an issue with discoloration, including a problem within the tooth structure that causes blemishes to develop. They also help hide damages that look awkward and out of place, issues with poor spacing, and even problems with teeth that are the wrong size.
What Changes Would You Like To Make To Your Smile?
We understand that people have different goals when it comes to cosmetic dentistry. In some cases, those goals can include treatment for multiple flaws. What might surprise you is how often porcelain veneers can prove effective at fixing problems with the way that people look when they smile and speak. These thin, durable shells cover the front surfaces of teeth. That limited area of coverage is enough to hide significant issues, and the strength of the porcelain material used to make these restorations can ensure that the coverage lasts!
How Porcelain Veneers Help People Take On Issues With The Way They Look
Before your veneers are provided, we will carefully measure your teeth to determine the right shapes and sizes for the restorations you receive. We will also provide any needed preparatory work to make space for them. Once we have the right information, we can have your custom restorations prepared. At a follow-up visit, we will make sure the ones that are made for you provide the right fit before we affix them. These restorations are permanently bonded in place, which means after this second appointment, you can enjoy long-term improvements that make your smile brighter, more symmetrical, and more attractive.
Discussing Other Treatment Options That Are Available To You
Because porcelain veneers are effective at taking on so many different flaws, they can be recommended for different patients with different needs. That being said, they are not the only cosmetic dental procedure that we offer. As we talk to you about your goals as well as your concerns around care, we can determine what procedure might be the right one for you.
Talk To Your Omaha, NE Dentist About Treatment With Veneers!
Through the placement of porcelain veneers, we can help you show off dramatic smile improvements! This is one of several cosmetic services we offer; when you share your goals and concerns around treatment, we can help ensure that you receive the right kind of care. If you would like to find out more, please contact your Omaha, NE, dentist, Dr. Pietrok, by calling (402) 330-2243.