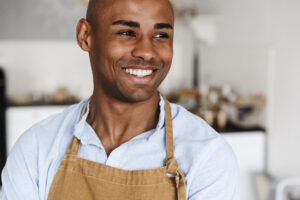 Your chipped teeth can a real obstacle to showcasing your best smile, but that obstacle can prove easier to clear than you may initially realize. At our Omaha, NE dentist's office, we can provide different cosmetic treatment options that can be beneficial to you. One of those options is cosmetic dental bonding and contouring treatment. Through bonding and contouring, we are able to reshape teeth, hide minor but prominent damages, and generally improve how you look. Taking this approach removes the need for us to have any restorations made and placed over the front surfaces of teeth, which means that the process can take less time than you expect and preserve more of your healthy enamel.
Even A Small Chip In Your Enamel Can Hurt Your Smile
Once you have a problem with enamel that has been chipped, cracked, or damaged in some other way, you can find yourself unable to express the same level of confidence in your smile that you once had. That minor change can stand out among your other teeth and pull more attention than you are comfortable with. The good news is that when the problem is less severe, it is often possible to provide improvements with a more conservative treatment. Bonding and contouring work can provide the care that you require, and it can do so while only making minimal changes to your tooth structure.
Treating Cosmetic Flaws To Address your Smile Concerns
Cosmetic flaws can be targeted and treated with procedures that make surprisingly few changes to your tooth structure necessary. For a person who undergoes tooth bonding and contouring work, we can reshape and resize teeth, hide blemishes, and address concerns about damage. The contouring process can help if your chip makes your tooth appear jagged. Because these are treatments that do not require permanent restorations, we are often able to complete care in just one appointment.
How Can I Find Out If My Tooth Needs More Than Just Cosmetic Work?
An important question to ask after any dental injury is whether damage is truly "just" cosmetic. You may learn that you actually need to have a dental crown put in place to both protect your tooth structure and prevent issues with limited or painful bite movements. This is not a situation that requires you to choose between restoring your smile and restoring your health, as your crown can imitate your enamel.
Talk To Your Omaha, NE Dentist About Restoring Your Chipped Tooth
Through treatment for your chipped tooth, your dentist can address a problem with a conspicuous injury with only minimal changes to your enamel. If you would like to find out more about how we are able to address damages and other issues, please contact your Omaha, NE, dentist, Dr. Pietrok, by calling (402) 330-2243.