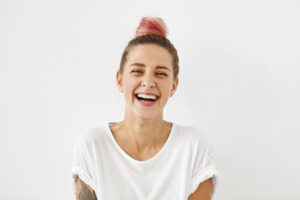 There are different reasons why people sometimes hesitate before showing off their smile, or why they might try to keep their teeth hidden in pictures. For some, a relatively minor but conspicuous issue can be at the root of their discomfort with how they look. While it can be frustrating to have even one flaw that holds back your smile, you should know that there are services that can help. In fact, you can actually find that the right procedure can change how you look for the better while preserving more of your enamel! Our Omaha, NE dentist's office can recommend tooth bonding and contouring services. With this approach, we can reshape teeth, fix issues with size, correct color problems, and even hide damage to enamel in as little as one appointment!
Are You Eager To Show Off Smile Improvements?
If you want to do something about an embarrassing smile problem, discussing cosmetic dentistry with your dentist can be beneficial. In doing so, you can learn about options for treatment that take less time, and preserve more of your enamel, than you might expect. Because of this, you can feel more comfortable committing to care while still seeing the results you hoped to show off at the end of your treatment.
Planning Tooth Bonding And Contouring Services
A tooth bonding and contouring procedure can take different approaches to carefully restoring the appearances of teeth that are less attractive. During the contouring process, we can work to change a tooth's shape and size. This can help when you have one that is larger than it should be, or when a tooth seems misshapen or jagged. The bonding process covers flaws, including flaws with the color of your enamel. You can also rely on it to hide minor chips and cracks, positively reshape teeth, and even add to the sizes of teeth that are too small.
Exploring Your Options For Cosmetic Work
Because you have several cosmetic dental treatment options to choose between, you can have an easier time selecting the procedure that is truly right for you. For patients who are worried over the color of their teeth, we can recommend a professional whitening procedure. With porcelain veneers, we can take on different issues with tooth shape, size, and color, and we can do so with thin restorations that can provide durable improvements.
Talk To Your Omaha, NE Dentist About Tooth Bonding Treatment!
A tooth bonding and contouring procedure can help you show off a more attractive appearance in as little as one visit, and it can do so while taking on different concerns about how you look. If you are ready to learn more about this service and its benefits, please contact your Omaha, NE, dentist, Dr. Pietrok, by calling (402) 330-2243.