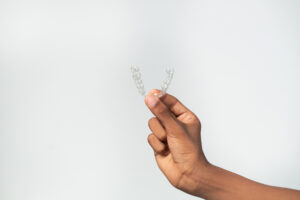 There are different solutions that we can present to patients who have problems with the way they look. What may surprise you is that you can actually count on our Omaha, NE dentist's office to help even when you have the kind of spacing concerns that feel like a problem for an orthodontic specialist. Because we offer treatment with clear aligners, we can actually present you with an exciting, discreet solution for this issue. You will not have to wear metal braces that stay fixed in position for the duration of your care. Instead, you will be able to rely on a set of appliances that are easy for you to remove and hard for other people to see!
Are You Interested In Fixing Problems With Your Teeth Spacing?
Do you have problems with teeth that are either too far apart or seem too close together? If so, you can be interested in a solution to the issue that does not require fixed metal braces. As effective as fixed metal braces are at taking on potentially serious problems with malocclusion, they are not needed for every person affected by misalignment. What you can find is that your dentist is able to help by providing you with a set of custom clear aligners! These appliances will be able to carefully and discreetly move teeth that are not in their appropriate positions. As you go through this process, you can find it easier than you anticipate to incorporate care into your daily life, as you will have less to worry about in terms of your appearance and potential changes to your daily routine.
Beginning Your Corrective Work With Clear Aligners
When you begin corrective work with either Invisalign or ClearCorrect appliances, you can be relieved to note how little they require in terms of changing your daily routine. These appliances are easy to slip on and off, which means you can take them off without issue before you eat or clean your teeth. When you have them in place, they can have little impact on your appearance, so they will not make you self-conscious in social or professional settings. As you move from one aligner to the next, you can see gradual improvements to your appearance that make you more confident in how you look. Whether you choose to move forward with this or another cosmetic dental procedure, know that our practice is ready to help you see lasting value from your procedure!
Talk To Your Omaha, NE Dentist About Treatment With Clear Aligners
Through treatment with custom clear aligners, you can take care of embarrassing smile flaws that stem from issues with poorly spaced teeth. If you would like to find out more about this or any other service that we provide, please contact your Omaha, NE, dentist, Dr. Pietrok, by calling (402) 330-2243.