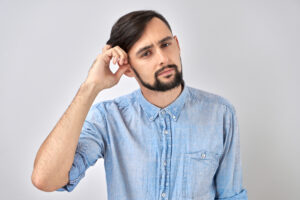 There are different actions that can have a negative effect on your smile. Poor diet decisions, skipping routine oral health checkups, and inconsistency in your hygiene routine are all potential sources of trouble. You also need to watch out for problems that can occur when you unconsciously grind and clench your teeth at night. Bruxism, or habitual grinding, can have lasting consequences, as you can wear down your enamel and make your teeth vulnerable to harm. This can also lead to chronic pain in your face and jaw due to TMJ disorder. At our Omaha, NE dentist's office, we can offer protection for this problem. For patients who are already struggling with dental damage, we can also offer helpful treatment options to hide physical harm and improve how you look!
Teeth Grinding At Night Can Do Real Harm To Your Smile
A tendency to grind and clench your jaw while you sleep can lead to more serious trouble than you realize. As you continue to do this, repeated issues with friction can wear down your enamel, causing your smile to look less attractive. You also face risks from excess wear and tear that can build to physical harm in the form of chips and cracks that create oral health concerns. The sooner you do something about bruxism, the less likely you are to experience complications.
We Can Provide A Custom Guard To Keep Teeth Safe
If we identify signs of wear and tear during a routine visit, or if you make an appointment to discuss concerns around teeth grinding, we can provide help in the form of a custom oral appliance. The guard that you receive will help you keep your teeth properly spaced so that no further wear and tear can occur. This will also help you reduce stress on your jaw joints and muscles, because you can stop pressure from taxing them and raising your risk for TMJ problems.
What We Can Do About Existing Dental Damage
When patients come in with dental damage that has already affected the way they look, For many patients, we can proceed with cosmetic dental work that conservatively hides flaws and improves appearances. However, when more significant harm has already occurred, we can opt to provide treatment with dental crowns. This can better protect vulnerable tooth structures, and it can provide cosmetic improvements.
Talk To Your Omaha, NE Dentist About Teeth Grinding
Untreated problems with bruxism can have serious consequences; the longer you wait to do something about this problem, the more likely you are to experience them! Our practice is prepared to both stop further wear and tear and address any damages to your enamel that have already occurred. If you would like to find out more about how we can support you, please contact your Omaha, NE, dentist, Dr. Pietrok, by calling (402) 330-2243.