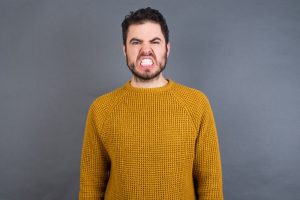 When someone suffers from bruxism, their nightly rest can become a problem for their smile. Unconsciously grinding and clenching your teeth can wear down your enamel over time. You can wake up with sore or sensitive teeth, as well as facial discomfort. The growing wear and tear on your smile can eventually change your appearance in unwelcome ways, and can ultimately do damage that makes restorative dental work necessary. At our Omaha, NE dentist's office, we can work with patients who struggle with bruxism, or persistent teeth grinding problems. We can provide a custom oral appliance to stop you from doing further harm to your smile. We can also provide work to restore teeth that are damaged, even if the problem affects your oral health as well as your appearance.
A Nighttime Teeth Grinding Habit Can Turn Into A Big Problem
Nightly teeth grinding and clenching will gradually wear down your enamel, which can lead to serious damage. Even before chips or cracks form, you can observe changes in the shapes of teeth that appear older, misshapen, and generally less healthy. Unfortunately, it is difficult to stop yourself from grinding your teeth while you are asleep. To protect your smile, we can provide a custom guard for you to wear.
Wearing A Custom Guard To Keep Your Teeth Safe While You Sleep
A custom oral guard provided at our practice can help you avoid further problems with bruxism. We take care to create personalized appliances that can stay comfortable and secure. While you are at rest, the guard will remain in position to keep your teeth separated. This can do more than just protect your enamel, as it can also help you avoid difficulties with joint alignment and mounting stress that can cause TMJ problems.
Addressing Damage That Has Already Occurred
The unfortunate truth is that patients sometimes wait until after they experience dental damage to see their dentist about treatment. Depending on how much wear and tear has occurred, we can determine if you might benefit from cosmetic dental work or restorative work. Cosmetic services are more conservative, which means less work has to take place to give you back an appearance that makes you feel confident. With that said, it is important to check if you need dental crowns to restore teeth that are in poor health and need better bite support.
Talk To Your Omaha, NE Dentist's Office About Nightly Teeth Grinding
Teeth grinding can become a difficult problem, one that affects your smile, oral health, and daily life in worrying ways. Fortunately, the right intervention can stop this issue from creating long-term difficulties for you. To find out more about treatment for bruxism, and to learn what we can do to restore damaged teeth, call our Omaha, NE, dental office today at (402)330-2243.