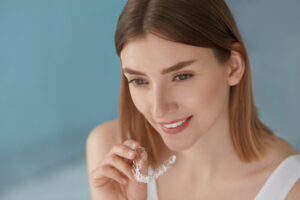 Your smile can be a source of pride, but it can also be a cause for discomfort if you worry about the way certain flaws affect how it looks. At our Omaha, NE dentist's office, we can provide different solutions to problems with your appearance, as we offer a range of cosmetic services. One of those services will help you take on embarrassing gaps or overlaps between teeth that are present because of malocclusion. We can provide clear aligner treatment as an alternative to work with metal braces. By taking care of poor teeth spacing, you can show off a more uniform smile, one that is more symmetrical and free from specific flaws that cause you embarrassment.
Clear Aligner Treatment Can Put Problems With Your Teeth Spacing Behind You
Poor teeth spacing can make many people unhappy with the way they look. Whether you are bothered by gaps, worried over crowding, or feel frustrated by general misalignment that causes your smile to appear asymmetrical, we can help. Your aligners can make the work of fixing these flaws easier to fit into your daily life. In addition to being hard for others to see, you can find that their ease of removal makes it easier for you to maintain your usual routine.
What To Expect As You Start Treatment To Straighten Your Smile
The set of clear aligners that are provided to you will be personalized for you use and your treatment needs. As you begin to wear them, you can feel relief upon seeing how hard they are for others to notice. You can also be happy to find that they are easy enough to remove to have minimal impact on your typical activities. With each appliance that you move to, you can make gradual improvements in your appearance that give you more confidence!
Other Cosmetic Concerns We Can Help You Take On
There are many reasons why people express interest in cosmetic dentistry. Through the different services that we provide, we can help resolve problems that have made individuals self-conscious about how they look. Teeth whitening services take on any direct concerns someone might have about enamel stains. For problems with tooth shape, size, condition, or alignment, we have other services to recommend, including the placement of permanent porcelain veneers.
Talk To Your Omaha, NE Dentist About Aligners!
Through clear aligner treatment, we can help people who have grown self-conscious about the way they look because of poor teeth spacing. If you have concerns about the way that your smile is aligned, we can introduce you to a treatment approach that offers orthodontic treatment without a fixed appliance! If you would like to learn more, please contact your Omaha, NE, dentist, Dr. Pietrok, by calling (402) 330-2243.