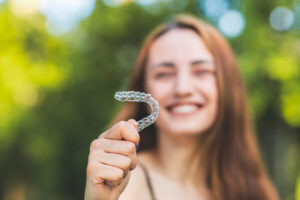 There are different issues that rob people of confidence in their appearance when they smile and speak. If problems with poor teeth spacing make you wish you could hide your smile, you should know that our Omaha, NE dentist's office can help. As an alternative to a traditional treatment with metal braces, clear aligners will help you make the work of straightening uneven teeth easier to fit into your life. They provide successive movements so that gaps and overlaps are fixed. Their clear design makes them hard to notice, and you can easily remove them when they might be in your way. By discussing this or another cosmetic dental procedure that we offer, you can find out just how much good cosmetic work can do for your appearance!
Are You Tired Of Living With A Crooked Smile?
Even relatively minor problems with teeth spacing can be hard to hide and embarrassing to live with. Any gaps or overlaps between teeth can draw negative attention, and poor spacing may make it difficult for you to maintain a comfortable bite. Your issues may be easier to treat than you realize, as there are appliances that work without making metal braces necessary. Instead, you can look at the positive impact that clear aligners can have on your smile and well-being!
Planning Treatment With Clear Aligners
Through treatment with personalized clear aligners, our practice can help you resolve problems with misaligned teeth. These appliances make it surprisingly easy to adjust your teeth without attracting unwanted attention. This is because they are difficult to see, and also because they can be easily removed at any time when they might be in your way. Using each one for the recommended length of time will guide your teeth into better positions, providing long-term cosmetic benefits as well as changes for your oral health.
Discussing Your Other Options For Cosmetic Treatment
There are a number of reasons why someone might lack confidence in their smile. They include issues with poor teeth spacing, dental discoloration, problems with the condition of your enamel, and more. Fortunately, the right cosmetic dental work can lead to meaningful results. With porcelain veneers, there are many beneficial changes that we can make in just two appointments. These restorations are able to hide damage, blemishes, and poor tooth shape and size. In some cases, they can even provide results in less time for people who want to correct spacing issues.
Talk To Your Omaha, NE Dentist's Office About Clear Aligner Treatment
Through treatment with clear aligners, it is possible for you to take on the frustrating problems created by poor smile alignment. If you would like to find out more about how this and other services we can provide, please contact your Omaha, NE, dentist, Dr. Pietrok, by calling (402) 330-2243.