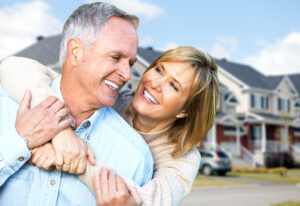 Few problems cause the mix of embarrassment and concern you can associate with tooth loss. The problem is one that significantly alters your appearance, and it can also have a negative impact on your bite function. Over time, you can experience new concerns that gradually grow more serious. This includes the problem of jawbone deterioration, which can lead to unwanted cosmetic and oral health difficulties. At our Omaha, NE dentist's office, patients who are interested in regaining a complete smile can set up an appointment to discuss implant dentistry. Through this service, we are able to care for you by holding your permanent prosthetic in place with a durable, biocompatible implant!
Is There Really A Permanent Solution To Tooth Loss Available To You?
With the right kind of support, a dental prosthetic can be trusted to remain in place permanently. We can offer this kind of support with an implant, a post made from biocompatible titanium that is inserted directly into your jawbone. When in place, it will be able to secure an artificial tooth so that it can be trusted to absorb bite pressure, and to ensure that you can provide important stability for neighboring teeth.
Planning Restorative Treatment With Dental Implants
Implant dentistry will first call for a thorough evaluation. In the course of your review, we can determine the location and angle of your implant, and we can make sure that you are ready to receive it. The placement process is followed by a period of healing that will let your jaw tissues naturally fuse with the titanium material. At the end of this recovery time, you can return to see us and have your permanent appliance put in position.
Maintaining A Healthy Smile After Your Prosthetic Treatment Is Completed
After a dental implant-held restoration is put in position, you should feel comfortable biting, chewing, smiling, and speaking with your prosthetic. The goal during restorative work is to provide more than just cosmetic changes. You should also feel capable of returning to the kind of dental function you enjoyed before tooth loss occurred. To make sure your restoration remains secure and in good health, visit your dentist for regular oral health exams and cleanings. These visits will provide early warnings about problems and also help you take care of your restoration and remaining natural teeth.
Talk To Your Omaha, NE Dentist About Implant Dentistry!
Through implant dentistry, you can enjoy a remarkable degree of support for your prosthetic tooth, or for a larger dental prosthetic. This approach to care is one that helps you maintain bite support and enjoy more comfort from treatment. If you would like to learn more about how this restorative treatment can benefit you in the long term, please contact your Omaha, NE, dentist, Dr. Pietrok, by calling (402) 330-2243.