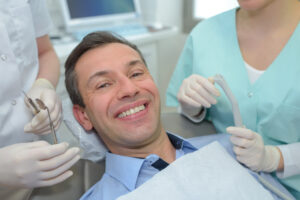 When our Omaha, NE dental practice takes care of a patient's smile by treating oral health trouble, we focus on preserving a tooth's health and appearance while also providing long-term support. Thanks to the technology we use to produce in-office dental crowns, we can also make sure your services are made as convenient as possible! At other dental offices, you can receive a custom crown over the course of two appointments. This leaves you dependent on a temporary crown that you can find uncomfortable or unreliable until your permanent restoration is ready. Thanks to CEREC technology, we remove this step in the process of smile care and instead provide results in just one appointment!
It Is Important That You Receive The Right Restoration After Dental Work
Any time you need to arrange restorative dental work, you can receive a lifelike and attractive filling or crown. With dental fillings, we can provide results with a conservative procedure that only covers the space where the cavity formed. A crown provides full coverage for a more severe cavity or injury, which will help sustain your bite function and oral health. At other dental offices, the process of placing a crown calls for two separate appointments. However, at our office, we can use CEREC technology to produce crowns in our office that we can place in just one visit.
How Technology Makes Same-Day Dental Crowns Possible
With the technology we have in our office, we can create a dental crown that is customized to securely fit your tooth. Before you receive your restoration, your tooth will be closely measured by imaging technology that allows us to create digital designs for crowns. After the design is ready, we can make your restoration with an in-office milling machine that will produce a crown made of lifelike ceramic.
Preventive Services Reduce Your Risks For Oral Health Issues
As convenient as it is to have access to same-day dental crowns, it is still preferable to protect your tooth from the threat of decay or physical damage. Your regular dental checkups provide support by lowering your cavity risk. They do this by giving feedback about the state of your enamel and by carefully cleaning your teeth. Cleanings play an important role in cavity prevention because they remove tartar buildup, something you are not able to do on your own.
Talk To Your Omaha, NE Dentist About Treatment With Same-Day Crowns
Through the placement of same-day dental crowns, we can take care of damaged and cavity-affected teeth in less time than you expect while still providing lasting support. To find out how we can help you protect your smile and oral health, contact your Omaha, NE, dentist, Dr. Pietrok, by calling (402) 330-2243.