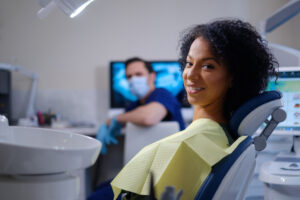 How long will it take your dentist to take care of a problem with your tooth? Oral health issues can cause serious harm to your enamel, which can make it necessary for you to receive more than just a dental filling. At other locations, problems that call for the placement of dental crowns will require at least two appointments. However, our Omaha, NE dentist's office can actually reduce the time it takes to have this work complete. We rely on in-office technology to produce crowns for our patients. As a result, we can have them ready in as little as one visit!
A Problem With Your Smile Should Not Be Taken Lightly
Any time you have a problem that calls for restorative dental work, you should be careful not to take it lightly. Putting off treatment will lead to complications. For instance, we can look at the progression of a cavity. At first, this will call for the placement of a dental filling, which provides coverage for the damaged area without altering your remaining tooth structure. However, as decay continues to spread, it will do enough harm to make this an ineffective treatment. Instead, it becomes necessary to place a custom dental crown, which surrounds the tooth. While other practices often ask patients to schedule two separate appointments to complete their treatment, we can have work completed in as little as one visit!
Planning Treatment With A Same-Day Dental Crown
Our CEREC technology lets us produce dental crowns for our patients in just one appointment. Your treatment will first call for the digital measurement of your tooth, which gives us the details needed to provide a custom restoration. After making a digital design of the crown, we will produce it with an in-office milling machine. This leads to the creation of a crown made from a ceramic material that can do an effective job imitating your healthy enamel, so treatment will benefit your appearance as well as your bite function.
Let's Talk About How We Can Help You Avoid Future Problems With Your Oral Health
If you want to stay safe from problems with dental decay, particularly advanced decay, make sure that you regularly schedule routine dental exams and cleanings. At every appointment, you will receive two important forms of care. Your smile will be thoroughly cleaned, which will take care of tartar buildup as well as plaque. You will also be closely evaluated by your dentist. These services lower your cavity risk, and they also help you by identifying cavities when only dental fillings are needed.
Talk To Your Omaha, NE Dentist About Receiving A Same-Day Dental Crown!
Through our use of same-day dental crowns, we can provide protection for vulnerable teeth in less time than you expect! If you would like to learn more, contact your Omaha, NE, dentist, Dr. Pietrok, by calling (402)330-2243.