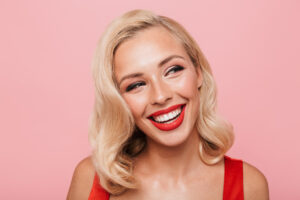 Before you give up and feel that you are just stuck with a dull, discolored smile, talk to your Omaha, NE dentist. While store bought whitening treatments can have limited impact, a professional cosmetic service can make your enamel many shades brighter! Our practice provides different approaches to teeth whitening, but whichever approach you choose can help you see welcome overall improvements. We should note that we also provide other cosmetic services, which can prove effective when you need to deal with intrinsic discoloration. If you are unsure if your discoloration is caused by internal problems or external stains, we can provide a review and feedback to let you know what approach might be right for you.
What Can You Do To Make Your Smile Whiter?
Have you already tried to whiten your teeth on your own? If so, you can have some lingering doubts about your appearance, as store bought treatments can be less effective at doing anything beyond helping with surface stains. To see real results, you can require a service that is able to deal with discoloration from stains that have settled over time. The good news is that you have more than one option to take care of this problem. Our practice offers in-office whitening procedures, but we also provide personalized kits that patients can take home and use at their convenience.
Choosing An In-Office Or Take-Home Whitening Treatment
If you still want to enjoy teeth whitening treatment from the comfort of your home, we can recommend that you take home a kit that is personalized for your use. Our practice can provide advanced whitening gels and custom trays to be used in their application. Over the course of recommended daily applications, you can fight problems with your smile and see gradual improvements as you deal with stubborn stains. An in-office whitening procedure will help you see those changes in a shorter time. After a single appointment, we can fight discoloration and help you show off brighter enamel when you smile and speak.
Discussing Cosmetic Treatment For Intrinsic Discoloration
Cosmetic dentistry takes on many different areas of concern. In fact, the right procedure can even help with intrinsic discoloration, a problem with your smile color caused by something other than stains from different foods and drinks. To hide these internal blemishes, we can recommend that you receive porcelain veneers, or that you undergo tooth bonding treatment. These services hide internal discoloration along with problems with the shape, size, and general condition of teeth.
Talk To Your Omaha, NE Dentist About Teeth Whitening Treatment
If you want to do something about the color of your smile, our practice is ready to help! To learn about your options for cosmetic treatment, contact your Omaha, NE, dentist, Dr. Pietrok, by calling (402) 330-2243.