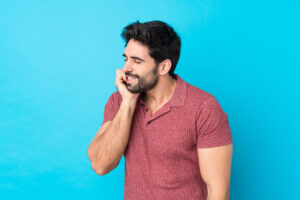 Is it becoming tougher to bite and chew without feeling resistance from stiffness or discomfort? Are you dealing with headaches on a more frequent basis, or experiencing the unwelcome effects of teeth grinding and clenching? These are issues that point to a concern over TMJ disorder, something that can seriously affect your quality of life and well-being if it is not managed. Our Omaha, NE dentist's office is prepared to help you deal with this issue. There are times when the matter is connected to problems with your oral health. Issues with the health of certain teeth can stop you from maintaining a comfortable bite function, and that can leave you dependent on a stressful, uneven jaw movement.
Is A Problem With Your Dental Health Forcing You To Rely On An Uneven Bite?
If you feel uncomfortable applying pressure with certain teeth, it can prove difficult for you to stick with an even jaw movement. That imbalance can create worsening stress for your jaw joints and muscles, leading to ongoing discomfort that can affect your face, head, and neck. The longer you go without managing this problem, the more it can impact your quality of life. If you are not biting and chewing properly because of sore or sensitive teeth, you may need help improving your bite and with restorative dental work.
Identifying And Treating Issues With Unhealthy Teeth
Once problems with unhealthy teeth are identified, you can proceed with smile care that properly restores your well-being and appearance. We use dental fillings and dental crowns that can imitate enamel, which means you will not have to worry that your appearance will be changed when you complete care. In a case where it is called for, we can even provide root canal treatment to resolve internal problems that affect a tooth.
Correcting Unresolved Issues With Jaw Alignment And Movement
Through corrective work for TMJ disorder, we can help you improve your bite and reduce stress and strain on your jaw joints and muscles. Custom oral appliance therapy can help with your jaw stiffness and pain, and it can help you take on trouble with teeth grinding. When in position, a custom guard for TMJ troubles will hold your jaw in a more comfortable position. This can reduce the tension on your joints and muscles, and it can encourage you to rely on a more natural movement.
Talk To Your Omaha, NE Dentist About TMJ Disorder And Your Dental Health
Through treatment for TMJ disorder, we can help you move past ongoing problems with bite pain and stiffness, and we can improve your overall oral health. Whether your troubles are linked to problems with specific teeth or rooted in a bite imbalance, we can offer important smile services. If you would like to learn more, contact your Omaha, NE, dentist, Dr. Pietrok, by calling (402) 330-2243.