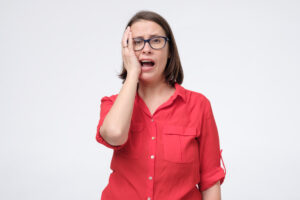 When you develop a problem with uneven jaw movement or poor alignment of your joints, the discomfort you experience can affect you in several ways. This issue, TMJ disorder, is the reason why many people feel pain when they move their jaw, have more frequent headaches, and even the reason why many people develop a tendency to grind their teeth, Your Omaha, NE dentist's office is here to help if TMJ disorder is something that you need managed. Oral appliance therapy can help with jaw pain and stiffness, and it can also be recommended when we need to manage ongoing troubles with teeth grinding.
Discussing Problems With Jaw Pain, Stiffness, And Teeth Grinding
When you think about the kind of discomfort you would mention to your dentist, you should count more than just tooth pain among the issues worth mentioning. Problems with jaw pain, including stiffness or limited bite movements, should be addressed, and so should problems with facial pain and discomfort in the morning that points to a problem with nightly teeth grinding. Even headaches can tip you off to something being wrong with your jaw alignment or movement, as TMJ problems can make them more frequent. We can discuss the signs of teeth grinding and poor jaw alignment that we observe during a dental checkup, but if the problem starts to alarm you, making an appointment to let us know what is happening can lead to results with less delay.
How A Corrective Oral Appliance Helps You Recover From TMJ Problems And Defend Against Bruxism
The use of a custom oral appliance to correct problems with your jaw alignment and movement can lead to welcome improvements in your bite health, and it can lead to overall benefits for your quality of life. We can design the appliance based on our careful study of your teeth and oral structures to confirm that it fits properly. When in place, it will keep your jaw gently repositioned so that it can become more comfortable. We can also discuss solutions for visible wear and tear that you have because of teeth grinding.
Dealing With Enamel Wear And Tear
In the course of the time you spend dealing with bruxism, you can develop dental wear and tear that can hurt your appearance. In time, this damage can even create problems for your oral health! After an evaluation, we can determine if this issue should be addressed through cosmetic dental work, or if you have a need for more involved restorative services.
Talk To Pacific Hills Dental About Your TMJ Problems
The longer you wait to explore treatment options for TMJ disorder, the more this issue can impact your quality of life. To ask questions or make an appointment to discuss this issue in person, you can contact your Omaha, NE, dentist, Dr. Pietrok, by calling (402)330-2243.