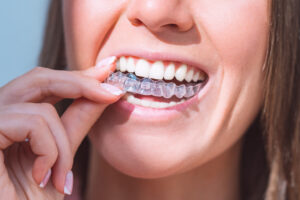 If you are tired of thinking about problems with your smile alignment, and how this issue is hurting your appearance, treatment is available. In addition to treatment with metal braces, which many can find uncomfortable to commit to, you can talk to your Omaha, NE dentist about the use of Invisalign aligners to improve your smile. By using these clear appliances, you can make the work of moving teeth that are out of place into position easier in several ways. You can enjoy the use of aligners that are difficult to see, making them less of a distraction. You can also be glad to have aligners that are able to be easily removed, which will help you avoid difficulties you might expect to encounter during orthodontic work.
Is It Time For You To Do Something About Poor Teeth Spacing?
The longer you wait to do something about poor teeth spacing, the less time you ultimately have with your improved smile! By committing to Invisalign or another orthodontic treatment, you can proceed with care that will help you put problems with gaps, overlaps between teeth, and more behind you. Arranging treatment will also give you the means to resolve problems with your bite function, as straighter teeth can improve your jaw movement.
What You Gain From Choosing To Start Treatment With Invisalign
Because we offer Invisalign aligners to our patients, we can help make your experience with straightening your smile easier. The appliances that you receive will be custom-made for your smile, which ensures that they both fit properly and make the right corrective movements. From one appliance to the next, you will see your smile become progressively straighter. While it is important that you keep your appliances in place for as much time as possible, you should feel free to remove them at times when you need to eat or clean your teeth.
Life After Your Teeth Are Straightened
While Invisalign can help improve your smile, this is more than just a cosmetic dental service. People who fix issues with malocclusion can have an improved bite function, which makes them less likely to struggle with TMJ disorder in the future. When you make changes to your dental alignment, you also make improvements that can make oral hygiene easier.
Talk To Your Omaha, NE Dentist About Invisalign Treatment!
Through Invisalign treatment at our practice, we can help you take on problems with your appearance as well as your oral health. We are happy to meet with you and discuss both the advantages of correcting problems with your smile alignment and the benefits to using Invisalign for this service. If you would like to learn more about how we can help you, contact your Omaha, NE, dentist, Dr. Pietrok, by calling (402)330-2243.