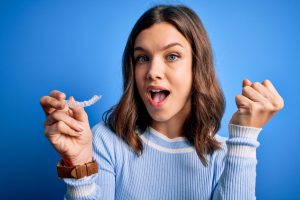 When you start treatment with Invisalign aligners, you can look forward to exciting changes to your smile. You can also find that there are oral health benefits to be gained from your corrective work. Treating problems with uneven teeth spacing can actually improve your bite function, and it can even make oral hygiene efforts easier and more effective. At our Omaha, NE dentist's office, we are happy to walk you through the benefits of corrective work with Invisalign or ClearCorrect aligners. We can discuss the use of these appliances to improve your smile, and we can also talk about the potential impact on your oral health.
Are You Someone Who Should Consider Treatment With Clear Aligners?
If you have noticeable problems with your teeth spacing that leave gaps or awkward overlaps between teeth, or if you have a smile that generally looks uneven or awkward, orthodontic treatment can be beneficial. You may be surprised at how effective clear aligners can be as an option for this kind of corrective work. Many who have mild to moderate problems with malocclusion can move forward with this discreet treatment experience. If you qualify, we may even be able to discuss other cosmetic dental treatments that can hide spacing flaws in less time.
What To Expect As You Prepare To Start Treatment
To make sure your treatment with clear aligners is effective, we can take detailed measurements of your teeth and oral structures to determine how your corrective work should proceed, and to determine what shape and size your appliances should be. You will receive a set of aligners. Wearing each one for the recommended period of time will help you gradually improve your smile. Because of their clear design, you can wear them without feeling self-conscious about how you look. You can also take them out when you clean your teeth, or whenever you eat, so they will not interfere with these activities.
Corrective Work Can Improve Your Smile And Benefit Your Oral Health
When you straighten teeth that overlap or are too far apart, you can make exciting improvements to your smile that give you more confidence in the way you look. Because of this, you can focus on the cosmetic benefits of aligner treatment, but you should know that there are other reasons to look into this service. By fixing problems with malocclusion, you can improve your bite function and also make it easier to clean teeth that previously overlapped.
Talk To Your Omaha, NE Dentist About Clear Aligners
When you start to look into treatment with clear aligners, you can find that you have access to a treatment that can significantly improve your smile and also provide welcome oral health changes! If you would like to find out more, contact your Omaha, NE, dentist, Dr. Pietrok, by calling (402)330-2243.