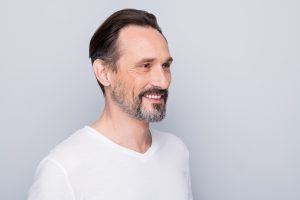 Once a person starts to lose teeth, they can lose confidence in their smile as well as their oral health. The good news is that the right approach to prosthetic dentistry can have a welcome effect on both. In other words, with the right prosthetic appliance put in place, you can feel better about your smile as well as your ability to bite, chew, and speak comfortably. At our Omaha, NE dentist's office, we provide different services to restore the health of patients who want to restore an incomplete smile. Through implant dentistry, we can provide long-term stability for restorations and also help maintain your dental health and bite function.
Are You Embarrassed By The Loss Of Your Teeth?
Whether you have lost teeth because of gum disease (the most common cause of this issue), advanced dental decay, physical trauma, or any other reason, that loss can be accompanied by a loss of confidence in your oral health as well as your appearance. Any visible gaps in your smile can make you feel less attractive, and they can make you appear older and less healthy. You also have to worry about the impact of this issue on your oral health, which can rob you of confidence in your bite and make you vulnerable to jawbone deterioration. Fortunately, with the support of dental implants, you will have the means to support lifelike restorations that address both functional and cosmetic concerns.
Planning Dental Work With Implants
Through a careful review of your oral structures and jawbone, we can determine where implants should be placed, and we can also confirm that this is the right procedure for you. Once they are put in position, you will need to wait an appropriate period of time to heal from your procedure. After the appropriate interval of time has passed, we can bring you in to have a custom restoration secured. This will only be placed after care is taken to make sure that your appliance is the right shape and size to fit securely and look natural.
Maintaining Your Smile After Your Prosthetic Treatment
Whether your smile is problem-free or partially restored through prosthetic dental work, you should think about how you can prevent problems from happening in the future. One important way to do this is to schedule regular dental exams. Your dentist can provide early warnings about problems, and they can offer tips on keeping up with the right behaviors at home.
Talk To Your Omaha, NE Dentist About Implant Dentistry
Through implant dentistry, we have the capacity to help people who experience worrying issues related to tooth loss. The work we provide can give you back the ability to bite and chew with confidence, and it can restore stimulation in your jaw to preserve your oral health. You can be happy to hear that we can use these titanium posts to hold lifelike prostheses in place, which means you can regain your confidence in your smile! If you want to know more, contact your Omaha, NE dentist's office at (402)330-2243.