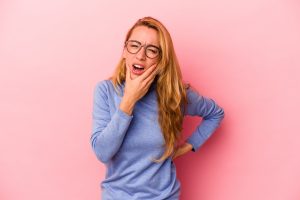 If you hurt your tooth badly enough, you can experience dental damage that calls for professional treatment. A chip or crack can affect your bite, change your smile, and lead to problems with your tooth's health that worsen as time passes. To properly protect your tooth, we can recommend that you receive a custom dental crown! At our Omaha, NE dentist's office, we can provide a restoration that caps your tooth to both hide damage and provide functional support. Because we use CEREC technology to make crowns for our patients, we can have your restoration ready in as little as one appointment!
How Much Trouble Are You In If You Cracked Or Chipped Your Tooth?
A chipped or cracked tooth is certainly not something to ignore. The longer you wait to do something about this problem, the more likely it is that you will experience worsening issues due to physical damage or an infection. Of course, you also have to worry about the effect that visible damage has on the way you look. Fortunately, you can contact our practice to discuss treatment soon after your injury to minimize your risk for complications. In fact, we can actually have the problem completely resolved in less time than other practices, as we have the technology that we need to produce a custom crown in just one visit!
CEREC Technology Makes Same-Day Crowns Possible
With CEREC technology, we can create dental crowns that are custom-made for patients at our office. Because we have no need for a third party lab to develop your crown, we can have your tooth completely restored in just one appointment! As with any permanent crown, yours will need to be just the right shape and size to both look natural and fit properly. To make sure you receive the right restoration, we will digitally measure your tooth before creating a model of the one you are going to receive. From there, our on-site milling machine will produce a crown that is the right shape, size, and color to provide lasting benefits.
Can I Look Into Cosmetic Treatment For A Dental Injury?
If your injury affects your oral health or dental function, it can be necessary for us to provide restorative dental work. However, if the damage is not this severe, we can instead look into cosmetic dentistry as an alternative treatment. With a cosmetic treatment, we can make the desired change to your smile while minimizing alterations to your tooth structure.
Talk To Your Omaha, NE Dentist About Restoring Your Chipped Or Cracked Tooth
Your Omaha, NE dentist's office is ready to help you deal with a dental injury that threatens your smile and oral health. To find out more about how we can take care of your smile promptly with a same-day crown, or look into cosmetic work for your treatment, call Pacific Hills Dental today at (402)330-2243.