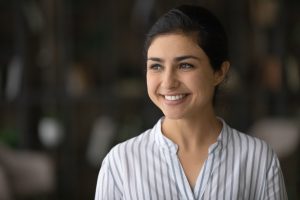 The end of the month is approaching fast, and that means you only have a few days left to take advantage of our May Teeth Whitening special discounts! Until the end of the month, we are offering discounts on different approaches to whitening treatment. Through this cosmetic dental procedure, you can take on embarrassing problems with the color of your smile brought on by an accumulation of enamel stains. You should know that our Omaha, NE dentist's office provides several cosmetic dental procedures that take on many different esthetic concerns. That support includes treatments that address intrinsic discoloration, dental damage, and more!
Are You Ready To Make Your Smile Brighter?
For many people, accumulated enamel stains have caused real distress over their appearance. A number of popular foods and drinks are capable of leaving stains behind on your teeth, and that can lead to discomfort as you look in the mirror and see teeth that appear less attractive and healthy. If you act quickly, you can take advantage of our May Whitening Special, which can make the right procedure for you more affordable!
Discussing Different Teeth Whitening Options
Our current specials include both take-home whitening kits and in-office treatments that can help you show off a more confident smile. We are also running a discount on a combined in-office and take-home treatment, something that can help you if you have advanced discoloration.
With the right combination of treatments, we can make the work to improve your smile more effective, and also more convenient. Take-home kits allow you to administer bleaching agents at your convenience. For those who want to see results in less time, an in-office procedure can lead to brighter enamel in a shorter period of time.
Other Cosmetic Services We Provide
Teeth whitening treatments can help many people deal with embarrassing cosmetic flaws. With that said, we know that there is more to worry about than just discoloration! Through the right cosmetic dental procedure, we can help you deal with the flaws that make you uncomfortable with the way you look. These services include treatment with porcelain veneers to make your smile brighter and more uniform, and to hide any problems with wear and tear or damage that have hurt your appearance.
Learn More About The Teeth Whitening Special Offers At Our Omaha, NE Dental Office
Until the month's end, our practice is offering a special discount for patients who want to do something about embarrassing teeth stains! This is just one of several cosmetic procedures that we offer. With the right treatment approach, we can help you take care of issues that make you self-conscious, and that can lead to you showing off a better, more confident appearance. To find out more, call our Omaha, NE, dental office today at (402)330-2243.