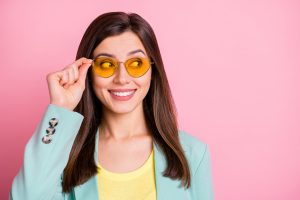 The summer is upon us, and that means you and your family can have plans for special outings, or just a general plan to make the most of the sunshine and warmth! If you want to greet the summer with a better, brighter smile, know that our Omaha, NE dentist's office can help! Through the right cosmetic procedure, we can help you put any flaws that bother you behind you. Thanks to our ongoing teeth whitening special, we can actually help you deal with discoloration at a special discounted cost. In other words, choosing cosmetic work now can mean enjoying cost savings and the chance to spend the summer with lovelier, brighter teeth!
Are You Tired Of Trying To Hide Your Smile?
Many people hold back when they smile because they are afraid that people will notice the flaws that make them self-conscious. Dental discoloration, problems with chipped or cracked teeth, and issues with the way teeth are aligned can hurt the way someone looks. If you are affected by one or more of these issues, or another cosmetic concern, talking about cosmetic dental treatment can be beneficial. You can find that just one procedure is all that you need to put your anxieties behind you and smile more freely!
Choosing A Cosmetic Dental Procedure
There are several cosmetic procedures that we offer our patients. They include both in-office and take-home teeth whitening treatments that fight accumulated stains. The whitening agents that we provide can remove stains that are difficult to remove on your own, even if you attempt to use store bought whitening kits. You can also talk with us about treatments like tooth bonding and contouring, or work with porcelain veneers, which can cover discoloration as well as problems with misshapen, damaged, or otherwise unflattering teeth.
You Still Have Time To Take Advantage Of Our Teeth Whitening Special!
For the remainder of May, our teeth whitening special remains in effect! While it is active, we can give discounts on both in-office teeth whitening procedures and whitening kits that we send you home with. The right approach to smile care can help you remove even the tough stains that have made you self-conscious, and that can give you a sustained confidence boost to carry you through – and beyond – the upcoming summer months!
Talk To Pacific Hills Dental About Your Interest In A Better Smile!
Pacific Hills Dental in Omaha, NE is ready to help you show off a better smile for the summer. With our special May teeth whitening offer, we can even make this a more cost-friendly time to pursue cosmetic treatment! If you want to learn more about this deal, or if you have questions about our other procedures, we are ready to help. You can reach us by calling Pacific Hills Dental at (402)330-2243.