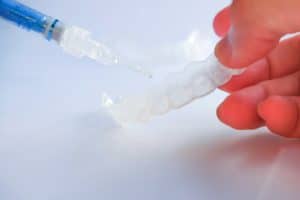 Our team wants to help patients in our community enjoy brighter smiles, so they feel proud to show off in pictures or when meeting someone new! Which is why we offer two very unique treatment options to break up and remove minor and severe discoloration. In today's blog, your Omaha, NE, dentist will look at how we remove stains with teeth whitening!
Extrinsic vs. Intrinsic Teeth Stains
First, we want to talk about the two different forms teeth stains take. The most common are referred to as extrinsic, meaning they form on the surfaces of your teeth. They can be caused by the food and drinks we consume, as well as poor oral hygiene and the use of tobacco products. Typically, these are rather easy to remove with teeth whitening. However, intrinsic ones, often referred to as permanent discoloration, form beneath the enamel. For that reason, they're difficult to reach. Factors behind permanent stains include fluorosis, tetracycline use in childhood, and injury to the teeth. To recommend the best treatment for your smile, we will need to diagnose the cause and severity of your discoloration.
In-Office Discoloration Removal
Our office-based procedure offers a brighter smile in one visit, in fact, in as little as one to two hours. The process is a great choice if you need results quickly. We start by placing a protective covering on your lips and gums. We then prepare and apply a powerful bleaching gel to the teeth. A light activates the gel, and begins to break up the stains on the surfaces of your teeth. We typically use this for primarily extrinsic discoloration, and offers noticeable results.
Home-Based Treatment
With our home-based option, we have a selection that reduces the risk of tooth sensitivity, and addresses both extrinsic and minor intrinsic discoloration. We start with an office visit, in which we take detailed impressions to create a set of custom-made trays. We send these plastic trays home with you, along with a prescription-strength bleaching gel. Each day, you will fill the trays and wear them for about 30 to 45 minutes, over a period of one to two weeks. For some, teeth could be brightened by up to eight shades. If you have more severe stains, then we may suggest masking them with dental bonding or porcelain veneers. If you have any questions about teeth whitening, then contact our team today.
Do You Have Questions About Cosmetic Treatment?
Our team would like to help you enjoy a brighter smile with professional treatment options. To learn more about achieving brighter teeth with whitening treatments, then schedule a consultation by calling Pacific Hills Dental in Omaha, NE, today at (402) 330-2243. We also serve the residents of Papillion, Elkhorn, La Vista, Millard, and all surrounding communities.