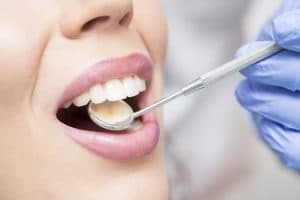 While there are plenty of store-bought options available, they don't offer the same level of results as our professional teeth whitening options. That is because our treatments can be customized for your smile, and offer dramatic results that last for months to come. In today's blog, your Omaha, NE, dentist is looking at our custom teeth whitening systems.
In-Office Whitening
We have an in-office treatment that helps remove unsightly discoloration in as little as one to two hours. We begin by applying a protective covering to the lips and gums. Next, we begin adding the bleaching gel to the surfaces of the teeth. A special light will activate the bleaching ingredients, and begin breaking up the stains. In a single visit, your teeth could be brightened by several different shades. A great option if you need fast results before a special event!
At-Home Treatment
For more severe cases of discoloration, or for people prone to tooth sensitivity, we could prescribe our home-based treatment option. Our team first takes a series of detailed impressions and images of your smile to design and create a set of plastic trays. We then send you home with these trays, along with a bleaching gel. At home, you will fill the trays with the gel and then wear them for about 30 to 45 minutes each day. The total treatment time will depend on the cause and extent of your discoloration, but usually takes between a week to ten days. You then keep your trays for any touch-ups that may be necessary down the road.
The Downsides of Over-the-Counter Treatments
Whitening strips often lead to tooth sensitivity, and could also make the teeth appear translucent if used improperly. A toothpaste with whitening ingredients could contain abrasive agents that over time, weaken enamel. The results could be short-lived as well. Instead, talk to our team about our professional treatment options. Following treatment, you can make positive changes to your oral health routine to help protect your smile from serious discoloration. Be sure you see us for checkups and cleanings every six months, and then make time to brush twice a day for two minutes and then floss before going to bed. If you have any questions about treating your discoloration, or about keeping your teeth bright, then contact our team today.
Do You Have Questions About Cosmetic Dental Care?
We're here to help you obtain the bright and stunning smile you've always dreamed about. To learn more about improving the beauty of your smile, then schedule a consultation by calling Pacific Hills Dental in Omaha, NE, today at (402) 330-2243. We also serve the residents of Papillion, Elkhorn, La Vista, Millard, and all surrounding communities.