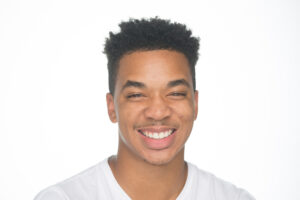 Is it time to take your concerns about dental discoloration to your dentist? Keeping your embarrassment to yourself or trying to fight the problem with a store bought treatment can lead to disappointment. By bringing up your interest in cosmetic treatment to your Omaha, NE dentist, you can learn about services that are able to effectively brighten your smile and give you a welcome boost in your confidence! We can provide in-office whitening kits as well as in-office services to brighten your smile. We can also help those patients who need to do something about discoloration that develops within the tooth structure.
Is Dental Discoloration Really A Problem I Should Bring To My Dentist?
Because there are products on store shelves that offer to fight teeth stains as well as toothpaste options that offer help with discoloration, you may feel that you can take on this problem on your own. What you can ultimately see is that these options offer only limited results. After failing to see the changes that you really want to show off, you can remain dissatisfied by how you look and worried the problem is permanent. Fortunately, you still have the option to talk to your dentist about what professional cosmetic dentistry can do for you.
How Long Will It Take Me To See Results?
Cosmetic dental work can take different forms. For people who want to do something about enamel stains, we can actually provide two different options. You can take on the problem during a single visit to our office, or you can take home a kit that is made for your personal use at home. The take-home kits that we supply make meaningful changes over the course of approximately ten days of daily applications. If you choose to have an office appointment, we can make all of the desired changes in just one appointment!
Is Discoloration Always Caused By Enamel Stains?
There are times when the problem with your discolored smile is linked to problems within the tooth structure rather than external stains, which means the type of care you arrange is different. With other cosmetic treatment options, like care with porcelain veneers, we can hide these blemishes and give you exciting improvements to show off!
Talk To Your Omaha, NE Dentist About Teeth Whitening Treatment!
When you share your questions about cosmetic dentistry with us, we can help you identify the right solution to problems that have robbed you of confidence! Whether you need to do something about external teeth stains or problems within the tooth structure, we can see to it that you have meaningful changes to show off. If you would like to learn more about how we can help you, please contact your Omaha, NE, dentist, Dr. Pietrok, by calling (402) 330-2243.