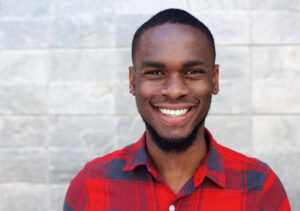 If you are someone who sometimes feels the need to keep their smile hidden, or if you have concerns about a recent injury that left you with visible damage, the right cosmetic procedure can help. At our Omaha, NE dentist's office, we offer different solutions, including services that offer results with surprisingly conservative care. Through tooth bonding and contouring work, we can hide flaws like discoloration and damage, close gaps or hide overlaps between teeth, and even restore a tooth's color. Because this is one of many services that we provide for patients who want cosmetic work, we can plan out care that best suits your concerns and goals for treatment.
Are You Someone Who Is Interested In Making Smile Improvements?
If you want to make your smile more attractive, you can find that cosmetic work is easier to arrange than you expect. In fact, there are many improvements that we can make in as little as one appointment. You can correct problems with dental damage, hide spacing flaws, address discoloration, and more while only making minimal changes to your enamel. Through tooth bonding and contouring work, we can help you reach your goals without the need for permanent restorations and significant changes to tooth structure.
Planning Your Personalized Tooth Bonding And Contouring Treatment
Your personalized tooth bonding and contouring procedure can target the problems with your smile that make you self-conscious. The issues that we can address include discoloration, dental damage, alignment issues, and even naturally occurring problems with tooth shape and size. Your procedure will include work to reshape and resize a tooth through a contouring procedure. This will see your dentist carefully remove excess tooth structure to make the tooth a better fit for your appearance. Your bonding procedure will cover up damages, discoloration, and more, and it can also add to the size of a tooth that is too small.
What Else Can You Do To Change Your Appearance?
You have options when it comes to taking care of your smile. With porcelain veneers, we can hide different issues with thin shells placed over the front surfaces of your teeth. They are strong enough to withstand years of friction from biting and chewing, leading to long-term benefits. We can also take direct action against dental discoloration by providing a professional teeth whitening treatment.
Talk To Your Omaha, NE Dentist About Tooth Bonding And Contouring!
Through tooth bonding and contouring work, we can help patients take on embarrassing problems with their appearance with a conservative cosmetic services. We are happy to talk with you about your options for treatment. If you would like to learn more about cosmetic services or any other matters, contact your Omaha, NE, dentist, Dr. Pietrok, by calling (402)330-2243.