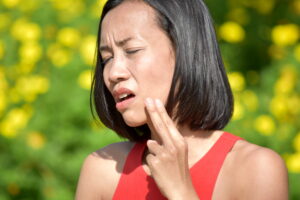 If you are already living with TMJ disorder, it can be hard to overlook just how often you experience problems with facial and jaw pain. It can also be concerning to experience an increase in headaches, and more problems with teeth grinding and clenching. The good news is that when you talk about your difficulties with your Omaha, NE dentist, you can learn about how this problem can be resolved. In addition to meeting with people who become concerned about the impact of poor jaw alignment and health on their daily life, we can discuss TMJ concerns during routine dental exams, which means your issue can be resolved before there are unpleasant complications.
How Do I Know That TMJ Disorder Is What I Am Dealing With?
There are several symptoms of TMJ disorder that you should be aware of, as they can point to the need to see your dentist for support. One issue to watch out for is a tendency to experience joint stiffness, which can make your jaw movements limited and uncomfortable. Another is a tendency to grind and clench your teeth while you are asleep, something that can do serious damage to your enamel. There are other issues, including more frequently experienced headaches, that should concern you as well. By letting your dentist know what you are struggling with, you can learn about treatment solutions that produce a better quality of life.
Treating Problems With Poor Jaw Alignment And Movement
The problems that you have with poor jaw alignment and movement are treatable. A custom oral appliance is able to gently change the position of your lower jaw to reduce pressure and improve movement. Correcting this imbalance reduces stress, which relieves the problems affecting the joints, muscles, and nerves impacted by TMJ problems. This can lead to a welcome improvement in your quality of life as you experience less discomfort and easier jaw movement!
Keeping People Informed About Their Dental Health
By keeping up with your regular dental exams and cleanings, you protect yourself against the different threats to your oral health that exist. Beyond looking out for cavities and gum disease, we can look for signs of TMJ disorder and other issues that can hurt you. When it comes to dental work, timely care can protect you against problems that arise when existing issues are not dealt with promptly.
Talk To Your Omaha, NE Dentist About TMJ Disorder
Problems with TMJ disorder can grow harder to ignore as they worsen, which can lead to greater discomfort and even limited dental function. At Pacific Hills Dental, patients can learn about their treatment options and discover what can be done to improve their health and quality of life. If you would like to find out more, please contact your Omaha, NE, dentist, Dr. Pietrok, by calling (402) 330-2243.