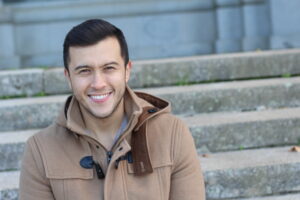 Do you feel as though you simply have to live with cosmetic flaws that concern your smile? If you lack information on cosmetic dentistry and what it can do for you, it can be difficult to know what kind of changes are actually possible. You may be surprised to find out just how much good one treatment can do; with the right service, we can take on several smile flaws at one time! Our Omaha, NE dentist's office is ready to work with you on changing the way you look. We can work out what your goals are and how they can be reached, and we can do so while focusing on conservative services that minimize changes to your tooth structure.
Are You Embarrassed By The Appearance Of Your Smile?
What kinds of issues motivate people to seek cosmetic dental work? Sometimes, patients express an interest in care because they want to do something about dental discoloration. At other times, they can be bothered by poorly spaced teeth, or by problems with the condition of their enamel. If these or any other issues make you unhappy with the way you look, we can work with you on care that produces desirable outcomes. What can surprise you is that one service can be all that you require even if there are several changes that you hope to make to the way you look.
Using Porcelain Veneers To Address Your Cosmetic Concerns
With porcelain veneers, there are many different smile flaws that we can effectively cover. The work to have these restorations placed can take place over just two appointments. In the time it takes for your veneers to be made and bonded to your smile, we will be able to take care of embarrassing issues with discoloration, dental damage, spacing flaws, and more.
Dealing With Oral Health Problems That Hurt Your Smile
Sometimes, the right approach to improving a person's smile will call for work to restore their oral health. Teeth that are lost, unhealthy, or not able to provide bite support can benefit from the more involved treatments. Whether you need prosthetic work or dental crowns to support remaining teeth, we can discuss the role of restorative dentistry in improving your appearance.
Talk To Your Omaha, NE Dentist About Correcting Problems With Your Smile
Through treatment to improve your smile, we can help you take on issues with the way you look that make you self-conscious about your appearance. As little as one procedure can be all that you need to arrange in order to positively change your smile. If you would like to find out more about how we can help with this and other matters, contact your Omaha, NE, dentist, Dr. Pietrok, by calling (402) 330-2243.