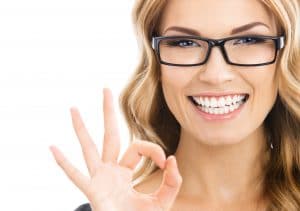 Cosmetic dental deficiencies can come in a number of shapes, sizes, and colors. If you feel like you need three different treatments just to correct the appearance of one tooth, it may discourage you from seeking cosmetic treatment. Porcelain dental veneers provide a helpful solution in these cases. Your dentist can use porcelain veneers to correct a number of different deficiencies all at once. That creates convenience, simplicity, and comfort for you as a patient. Explore the different ways in which porcelain dental veneers can improve the appearance of your smile.
Porcelain Dental Veneers Correct Cosmetic Dental Issues of Symmetry
Your teeth grow in naturally, but not consistently. Most people have a similar experience with the development of their teeth, but they rarely grow in as a symmetrical, aligned set. You may have gaps in your smile. One tooth may be proportionally much smaller than the others. One tooth may be slightly crooked or misshapen. Porcelain dental veneers can address all of these issues and create a balanced, symmetrical smile. Whether your dentist fabricates a single veneer or an entire set, they have control over the consistency of your smile.
Porcelain Dental Veneers Are Placed Atop Your Natural Teeth
Porcelain dental veneers can tackle so many different issues because your dentist fabricates them to specifications based on your teeth. The veneers themselves are thin sheets of dental porcelain. Your dentist can treat this porcelain to match the shade of your natural teeth, or to create a brightening effect for your smile. Your dentist can also fabricate the veneers to create a completely symmetrical smile, giving you a complete set of beautiful teeth. Your dentist then smooths the surfaces of your natural teeth and attaches the veneers.
Dental Veneers Can Also Correct Discoloration Issues
There are different types of tooth staining. Professional teeth whitening treatment can often correct extrinsic staining. This is a type of discoloration created by pigment. As you eat foods and consume drinks, pigment particles become trapped in the outer layer of dental enamel on your teeth. As the pigment builds, it creates a stain. Intrinsic staining happens beneath the surface and cannot be corrected with whitening treatment. Veneers can cover these types of stains and create a uniform, white appearance to your smile.
Contact Pacific Hills Dental for Cosmetic Treatment Options
At Pacific Hills Dental, we create cosmetic treatment plans catered to individual needs. Porcelain veneers can address a range of issues, but we want to make sure they're right for you. During a consultation session, we can assess the goals you have for your smile. Then, we'll determine the best treatment option and set up a treatment timetable. If you're ready to explore cosmetic options, contact the Pacific Hills Dental office in Omaha, NE at 402-330-2243.