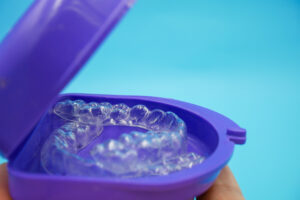 There are different reasons why people look into cosmetic dentistry. It might surprise you to learn that at our Omaha, NE dental practice, we can actually address problems with malocclusion—poor teeth spacing—if this is something that makes you self-conscious about how you look. By providing clear aligners for your adjustment, we can make it easier for you to improve the way you look if you have embarrassing gaps or overlaps between teeth. These appliances are custom-made to make the correct changes to your smile alignment, and they are designed to be difficult for others to notice whenever you wear them. In some cases, we can discuss other cosmetic services that can hide spacing problems.
Poor Smile Alignment Can Negatively Affect Your Appearance And Oral Health
Problems with your smile alignment can feel difficult to hide. However, if you think your only option is to wear conspicuous metal braces that are in place for the duration of your adjustment, you can feel reluctant to begin care. With the option of treatment using clear aligners available to you, it becomes easier to commit to corrective work. These appliances are both removable and hard to see, so they can easily fit into your daily routine and also preserve your appearance. We can take care to closely measure your teeth and ensure that you receive appliances that are personalized for your use!
Planning Cosmetic Work With Clear Aligners
A set of customized clear aligners will be designed for your treatment. Each one represents part of your overall procedure; you will wear each one for a designated period of time to see results. You should keep them in place throughout the day, and minimize the time you spend with them off. With that said, you are encouraged to remove them in situations where they are in your way, so they will not create problems for eating or maintaining your oral hygiene.
Reviewing Other Cosmetic Services That Are Available To You
There are some circumstances where alternative cosmetic treatments can help when poor teeth spacing affects you. After a review of your smile, we can determine if we can hide your gaps and overlaps with custom porcelain veneers. These restorations are carefully made to provide many cosmetic benefits. These benefits include hiding poor spacing as well as treatment for issues with discoloration, dental damage, and other concerns.
Talk To Your Omaha, NE Dentist About Treatment With Clear Aligners
Through treatment with clear aligners, you can take on problems with the way your teeth are spaced without wearing metal braces! Our practice is happy to discuss the benefits of this and other cosmetic services if you feel ready to resolve problems with the way you look. If you would like to find out more, contact your Omaha, NE, dentist, Dr. Pietrok, by calling (402) 330-2243.