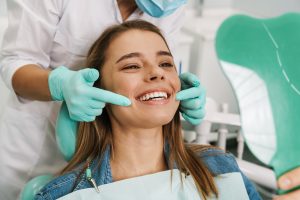 Through good daily habits and consistent routine appointments with your dentist, you can effectively control your risk for experiencing the kinds of problems that require restorative dental work. At our Omaha, NE dentist's office, we provide important preventive services as well as treatments to address active oral health problems. In the event that you suffer a dental problem that is too serious to call for a filling, we can still have your work completed in as little as one appointment thanks to our CEREC dental crowns. We have the technology that we need to produce crowns in just one appointment, and from our office, making this service surprisingly convenient!
Why Some Dental Problems Require Crowns Instead Of Fillings
A dental filling is the first restoration that we recommend when a patient requires restorative dental work, but it is not always the right one. If there is too much damage from a cavity, or if a tooth is physically harmed, it may be necessary to cap it with a custom dental crown. This restoration provides full coverage above the gum line, which provides more protection as well as better bite support. This does require more preparatory work, which means more of your tooth structure has to be modified. Our practice can actually provide your crown in just one appointment thanks to CEREC technology, whereas many other practices will need at least two appointments to put your restoration in place.
Receiving Your Same-Day Crown
We will use digital imaging technology to scan your tooth and determine what shape and size your restoration should be. From there, we can make a digital design of the crown, which will be carefully made to match the color, shape, and size of the tooth being restored. An in-office milling machine will produce the crown, which is put in place and secured to provide lasting support!
We Can Help You Avoid Future Problems With Your Oral Health That Require Restorations
Remember that our office is here to help you even when you have no active oral health concerns. At your regular appointments, you can look forward to preventive services that both update you about your oral health and provide treatments to fight plaque and tartar buildup that make you vulnerable to problems.
Talk To Your Omaha, NE Dentist About Receiving A Same-Day Crown!
The technology to produce same-day dental crowns shortens treatment times and helps patients move past dental problems in less time. At our Omaha, NE dentist's office, we provide CEREC dental crowns that we can design, produce, and place in the space of a single appointment. Remember that we are also here to help you avoid the kinds of problems that require these restorations. If you have questions or wish to schedule a visit, contact your Omaha, NE, dentist, Dr. Pietrok, by calling (402)330-2243.