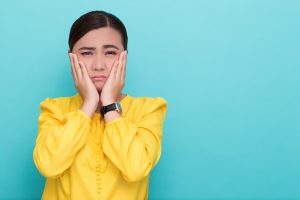 Have you kept your problems with jaw pain and stiffness to yourself? Are you trying to ignore frequent issues with discomfort that you feel when you bite, chew, and speak? Instead of trying to hide your discomfort, talk to your Omaha, NE dentist about the issues that you are experiencing. By discussing your issues, you can learn about the benefits of treatment for TMJ disorder. By addressing problems with jaw alignment and movement, we can help you move past issues with joint pain and stiffness, recurring headaches, and even issues with teeth grinding.
Are You Really Struggling With TMJ Disorder?
How concerned should you be about your ongoing issues with jaw pain and stiffness? If you try to ignore this problem, you can experience worsening issues with discomfort as well as stiffness in your jaw movements. Other problems you can face include more frequent headaches, trouble with neck and shoulder pain, and a tendency to grind your teeth. Trying to ignore this problem can lead to worsening pain, and it also makes you vulnerable to dental damage from grinding and clenching.
Why TMJ Problems And Teeth Grinding Are Often Linked
You can have teeth grinding issues, you can put increasing pressure on your jaw, which can lead to discomfort from TMJ disorder. You should also be aware that if you have unresolved problems with your joint alignment, or with persistent stress or pain, you may respond by developing a tendency to grind and clench your teeth. Because these issues are often linked, treatment for both can be necessary. Through appliance therapy, we can provide relief and protect your teeth and reduce stress that causes discomfort.
Discussing All Of Your Oral Health Concerns During Your Regular Exams
How can you stay on top of your oral health needs? With your regular dental checkups, you can learn about more than just trouble with dental decay. We also discuss other concerns, including TMJ disorder, that can negatively affect your quality of life. Remember to be consistent with these visits. By scheduling them on a semiannual basis, you can stay informed about your oral health and avoid complications from problems that can be spotted and treated early.
Talk To Your Omaha, NE Dentist About TMJ Disorder
Problems with TMJ disorder should not be taken lightly, as they can seriously affect your quality of life on a daily basis. The longer you go without discussing this issue with your Omaha, NE dentist, the more time you have to spend in discomfort. We can help you take care of this issue, and we can also take on related concerns with teeth grinding. If you have questions or wish to know more, call Pacific Hills Dental in Omaha, NE at (402)330-2243.