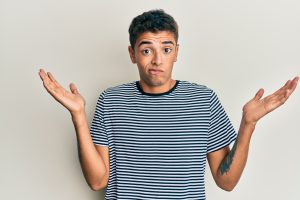 You may feel ready to do something about poor smile alignment, but that does not mean you know what kind of treatment makes sense for you. For many people, the benefits provided by metal braces are less appealing because they worry about what life will be like with a conspicuous, fixed appliance. As an alternative, you may be excited to learn more about clear aligners. Our Omaha, NE dentist's office is happy to help you correct problems with the alignment of your smile through Invisalign treatment. These appliances are easy to wear without drawing unwanted attention. They also make daily life easier because you can easily remove them whenever you need to eat or clean your smile.
Learn How Clear Aligners Can Improve Your Smile
Clear aligners make progressive changes to the alignment of your smile – you will actually rely on a series of appliances to make progressive changes. The aligners that you wear will bring teeth closer together when they are too far apart, or realign teeth that overlap in awkward ways. While you can take them out at times when they are in your way, you should be careful not to keep them off for too long.
Find Out How Treatment Can Fit Into Your Daily Life
Invisalign aligners are difficult to see, making it easy for you to wear them without drawing unwanted attention. That means you will not have to worry about having them on when you are in an important social or professional situation. You can remove them at your convenience, which makes it easier for you to clean your smile or eat. Discreetly taking them out can prove surprisingly easy, making you even more confident that you can easily fit Invisalign aligners into your daily life.
Discover How Straighter Teeth Can Improve Your Oral Health
Straighter teeth can look more attractive, making the cosmetic benefits exciting. What you may not realize is that your corrections can also improve your oral health. When your smile is properly aligned, it is easier to maintain a comfortable bite motion that reduces stress on your jaw joints and muscles. You can also have an easier time preventing oral health issues, as it becomes easier for you to keep your teeth clean.
Talk To Your Omaha, NE Dentist About Clear Aligners
With custom clear aligners, you can make valuable changes to your appearance and dental health. Pacific Hills Dental is happy to help patients begin this treatment process. We can also provide a range of other beneficial cosmetic and restorative services. If you would like to learn more about Invisalign treatment, or if there is anything else that we can help you with, please call our Omaha, NE, dental office today at (402)330-2243.