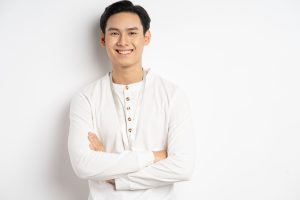 Your appearance when you smile can be a source of pride, but when you have problems with accumulated enamel stains, it can also be a reason why you feel self-conscious. Over time, particles from many different foods and drinks can accumulate on teeth and cause undesirable changes that hurt your appearance. While this can be frustrating, you can be relieved to hear that your Omaha, NE dentist is ready to help you! Through a professional teeth whitening procedure, we can take on problems with stains that hurt the way you look. With our ongoing May whitening special, you can find that your desired procedure is more attainable than you thought possible!
Do You Have Growing Frustrations With Enamel Stains?
Over time, you can become self-conscious because of the way enamel stains hurt your smile. Different drinks and food products that are rich or dark in color can leave particles behind on our teeth that cause them to look dull, less healthy, and generally less attractive. Fighting this issue can lead to frustration if you do not look into treatment with your dentist, as you may have a hard time removing anything more than recently-acquired stains on the surfaces of teeth. Fortunately, a professional cosmetic dental procedure can help!
Arranging A Professional Teeth Whitening Treatment
Our practice is running a teeth whitening special for the month of May that makes both in-office treatments and treatments that focus on at-home care more accessible. We can talk to you about your preferred approach, and make recommendations for treatment based on the current condition of your smile. With the advanced bleaching agents used at our office, we can remove stains that have settled over time and left you unhappy with the way you look.
When appropriate, we can review alternatives to teeth whitening treatment for those with intrinsic discoloration. This form of discoloration is a consequence of a change to your tooth structure rather than stains. By fighting this problem with a different procedure, we can help you put your concerns around the way you look behind you!
Preserving Your Improved Smile
After any cosmetic procedure, your goal can be to keep your smile bright and attractive for as long as possible. Good daily habits can help with this, as can diet adjustments that reduce your exposure to products capable of leaving stains. We can also help you by providing preventive services during regular exams to keep your teeth attractive and in good health.
Talk To Your Omaha, NE Dentist About Treating Enamel Stains
Through the month of May, Pacific Hills Dental has exciting discounts on different approaches to teeth whitening treatments! If you have questions about our current special, or if you want to discuss any other cosmetic or oral health issue, please call our Omaha, NE, dental office today at (402)330-2243.