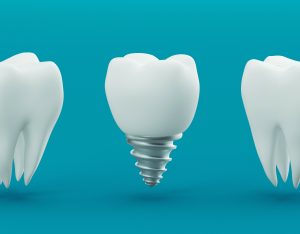 Tooth loss differs from other forms of tooth damage because it undercuts the things that make your teeth so strong and stable: their roots. The roots of your tooth bond to your jawbone, forming a stable connection that allows you to chew with confidence and comfort. A missing tooth means missing roots, and the loss of your bite's integrity. Dental implants are a form of dental prosthetic that can replace the roots of your tooth. After placing a restoration atop your replacement roots, your new tooth will perform like your natural tooth did.
Dental Implants Are Titanium Replacement Roots
Dental implants are typically made from titanium, giving them immense strength and durability. This is exactly what you want from a prosthetic, since you don't want to revisit tooth loss in the future. The titanium replacement root is surgically set in your jawbone, just like your natural root was previously. After healing, the implant will fuse with the jawbone, which can actually fortify your jawbone. Your dentist will then fit you for a dental crown, which will fit atop your replacement root, giving you a chewing surface and allowing the prosthetic to blend in with your other teeth.
Your Jawbone Must Be Healthy Enough for Treatment
Before your dentist can proceed with dental implant surgery, they will need to make sure that your jawbone is healthy enough for treatment. What does that mean? In order to support a dental implant, your jaw needs enough strength and integrity. This can be a problem if you've suffered periodontitis and lost jawbone mass. It can also be an issue if you've suffered severe tooth decay. Your dentist will need to address any of these outstanding issues before they can begin the process of replacing your tooth.
Dental Implants Still Require Regular Care
Although the replacement root in your mouth may be artificial, it's not impervious to bacteria. Plaque can still build up on your replacement tooth, as well as around the gum line, so it's important to brush and floss regularly. If tooth decay was the initial cause of your tooth loss, you'll want to talk to your dentist about what you can do to ensure that you don't face those same issues again in the future. Make sure you're attending biannual checkups so that your dentist can evaluate your overall oral health.
Learn More About Dental Implants with Your Omaha, NE Dentist
Dr. Cassandra Pietrok and Dr. Tom St. Germain of Pacific Hills Dental believe in ongoing education, and use advanced technology to provide you and your family with high-quality dental care. As a Master and a Fellow of the Academy of General Dentistry, they are uniquely qualified to provide you and your family with a full range of dental health treatments. To make an appointment for a dental implant consultation for yourself or for a family member, call our Omaha, NE, dental office today at (402)330-2243. We proudly treat patients in Omaha, NE, and all surrounding areas, including Papillion, Elkhorn, La Vista, and Millard.