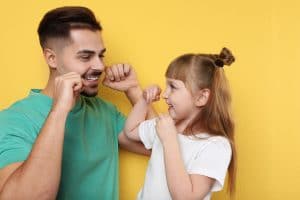 Did you know that poor oral hygiene could not only cause cavities, but lead to the onset of poor gum health, including gingivitis and periodontal disease? In today's blog, your Omaha, NE, dentist is looking at how you can improve your oral hygiene habits at home, and lower your risk of developing serious gum issues like periodontal disease!
What Causes Periodontal Disease
The disease starts when inflammation impacts the gums, causing them to appear red, feel sore, and bleed easily. Eventually the inflammation, also known as gingivitis, causes the tissues to pull away from the teeth and form pockets. When bacteria enter these pockets, this causes the onset of periodontal disease. The initial inflammation could be the result of certain medications, inflammatory illnesses, smoking and tobacco use, and a family history of poor gum health. Poor oral hygiene, and a lack of proper busing and flossing, could also lead to plaque buildup, which irritates and inflames the tissues as well. Understanding the cause of the disease could help you make better decisions regarding your oral health!
Will Brushing and Flossing Help?
Brushing and flossing in between office visits is crucial for limiting plaque buildup and protecting your gum tissues. You should brush your teeth when you wake and again before bed for two minutes. Use a fluoride toothpaste and a toothbrush with soft bristles (which reduces gum irritation if you brush too hard). You need to floss each night before bed too, moving the tape up and down the length of each side of each tooth and dipping below the gum line to remove all trapped food particles. This, along with cutting back on sugary foods and drinks, could help reduce plaque buildup and protect your smile!
Emergency Dental Care
We're still limiting treatments to emergency care for the moment, so if you have a damaged tooth or encounter serious toothaches, which could be a sign of tooth decay or infection, then you may need treatment. We offer lifelike restorations to repair and restore your smile! When our doors open again, we can also offer thorough checkups and cleanings to help remove plaque and protect your smile from an array of common oral health issues. If you have any questions about keeping your teeth and gums safe from home, or about our approach to emergency dentistry, then contact our team today.
Do You Have Questions About Periodontal Health?
Our team understands how routine daily care helps protect your smile from serious oral health complications. To learn more about keeping your smile free of inflammation and disease, then schedule a consultation by calling Pacific Hills Dental in Omaha, NE, today at (402) 330-2243. We also serve the residents of Papillion, Elkhorn, La Vista, Millard, and all surrounding communities.