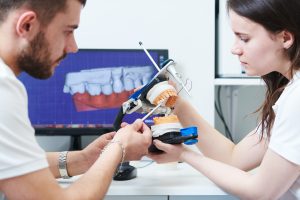 Tooth loss creates a deflating feeling for many individuals. Missing teeth may cause you to feel self-conscious, and the experience of losing a tooth can be painful and traumatic. Whether you've recently suffered tooth loss, or you've been living with tooth loss for some time, you're not out of options. There are ways that you can replace a missing tooth or missing teeth to repair your smile and rebuild your bite. Renewed confidence in the appearance and function of your teeth will have a positive effect on your lifestyle. Here's what you can do to replace missing teeth.
First, Get In Touch With Your Dentist
Before you do anything to replace your missing teeth, you'll need to get in touch with your dentist. Your dentist needs to examine your teeth and other oral tissues to determine the extent of the damage and if there are any underlying oral health issues that may affect your replacement teeth. If your tooth loss has been caused by severe tooth decay, your dentist will need to treat the decay before they can replace the tooth. If you have developed gum disease, this may affect the prosthetic options available to you.
Explore Your Options for Replacing Missing Teeth
There are several different prosthetic options for replacing missing teeth. Your personal tooth loss situation will dictate which prosthetic works best for you. A dental bridge is often used to address cases of individual tooth loss, or tooth loss in sequence. If you've lost two-three teeth that are all next to each other, a bridge may be your ideal prosthetic. Dental bridges use dental crowns to hold prosthetic teeth ("pontics") in place. The crowns fit over health tooth structures on either end of the missing teeth to stabilize the prosthetic.
You Have Other Options for Extensive Tooth Loss
If you've lost many of the teeth on your top or bottom jaw, then a series of bridges may not be the most efficient way to replace your missing teeth. Dentures, and partial dentures, can be used to replace a large number of teeth with a single prosthetic piece. Dentures don't necessarily need to replace all of the teeth on the top or bottom of your jaw. If you need added stability for your dentures, your dentist may be able to use dental implants to hold the dentures in place, giving you added stability to your bite.
ABOUT REPLACEMENT TEETH FROM YOUR OMAHA, NE, DENTIST:
Dr. Cassandra Pietrok and Dr. Tom St. Germain of Pacific Hills Dental believe in ongoing education, and use advanced technology to provide you and your family with high-quality dental care. As a Master and a Fellow of the Academy of General Dentistry, they are uniquely qualified to provide you and your family with a full range of dental health treatments. To make an appointment for a prosthetic consultation for yourself or for a family member, call our Omaha, NE, dental office today at (402)330-2243. We proudly treat patients in Omaha, NE, and all surrounding areas, including Papillion, Elkhorn, La Vista, and Millard.