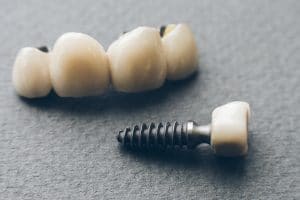 Don't let minor tooth loss cause problems for the function and beauty of your smile. Instead, talk to your Omaha, NE, dentist! Our team knows how to restore missing teeth using lifelike prosthetics. In today's blog, we're going to focus on one option in particular, our natural-looking and stable dental bridges, which can often be secured with dental implants.
Creating Your Pontics and Crowns
A bridge literally bridges the gap between the natural teeth on either side of the gap in your smile, and could be used to replace between one and three teeth in a row. The prosthetic contains pontics, the term for new teeth, and crowns on either end. To create them, we first remove structure from the natural teeth on each end of the gap, often referred to as abutment teeth. We then take detailed images and measurements with digital technology. Our team then crafts the completed prosthetic from durable and lifelike materials, ensuring they absorb bite forces and look natural too!
Placing Your New Teeth
When the prosthetic is complete, you will return to the office. We place the crowns onto the abutment teeth, securing the bridge for between 10 and 15 years on average. However, to provide a longer-lasting option, instead of attaching them to natural teeth with crowns, we may instead place the crowns onto dental implants. Made from biocompatible titanium, dental implants will be placed directly into the jawbone, where they act like new roots. They stimulate jawbone tissue growth to ensure they can last decades, possibly even a lifetime.
Preserving Your Smile
When you replace missing teeth, you help prevent complications like misalignment, jaw joint strain, and bite imbalance, which could otherwise lead to tooth decay, gum disease, TMJ disorder, and bruxism. When you use dental implants to secure your bridge, you also avoid the loss of jawbone mass and density that follows tooth loss, a process that preserves your facial structure. If you have any questions about replacing one or more missing teeth, or about preventing tooth loss altogether, then please contact our team today to learn more, or to schedule a visit for an exam and cleaning!
Do You Have Questions About Prosthetic Dentistry?
We want to help people with one or more lost teeth obtain a full smile again. A full smile not only looks great, but also helps you maintain optimal oral health and avoid serious complications! To learn more about how we address minor and severe cases of missing teeth, then schedule a consultation by calling Pacific Hills Dental in Omaha, NE, today at (402) 330-2243. We also serve the residents of Papillion, Elkhorn, La Vista, Millard, and all surrounding communities.