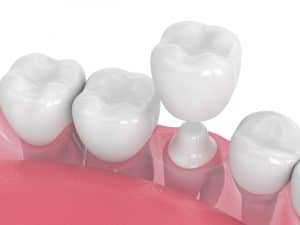 At one time, finding out you needed a crown meant committing to two to three visits, and possibly wearing a temporary restoration for up to two weeks. However, your Omaha, NE, dentist is proud to offer a more convenient alternative. With the CEREC system, we employ CAD/CAM technology to design, craft, and place a crown in just one visit!
Restoring Smiles with Crowns
A dental crown covers the entire visible portion of your smile, which means we can treat an array of cosmetic and restorative concerns. For example, we can repair tooth decay too severe for a filling, and provide repair for more severe chipped or cracked teeth. We complete root canal treatments for infected teeth, and even lengthen the teeth worn down due to teeth grinding or clenching. Crowns have also been used to reshape malformed teeth and address esthetic issues with shape and color. For those with missing teeth, we can secure a dental bridge, and also restore an individual dental implant too.
The CEREC System
Instead of requiring multiple visits, we can use advanced technology to restore your smile in one sitting. We start by removing structure from the tooth, and then taking detailed digital images with an intraoral camera. We combine these images to make a 3D model, which enables us to design your restoration. We upload the information into an onsite milling machine, which then crafts them from a block of ceramic. Not only is ceramic durable, it can be tinted to blend with the color of your surrounding teeth too.
When we complete the restoration, we will make sure it offers an optimal fit before placing it with a powerful bonding agent. When you leave, you do so with a lifelike and long-lasting dental restoration!
Keeping Your Smile Strong
Following treatment, you can take steps to safeguard your newly repaired tooth, and also protect your other natural teeth as well. Each day, make time to brush your teeth when you wake up and before bed for about two minutes. Your toothpaste should contain fluoride, which helps strengthen outer enamel. We also urge flossing every night before bed, which removes the food particles a toothbrush cannot reach. Every six months, be sure to see us for a checkup and cleaning too, so we can keep a close eye on your smile and also remove all harmful plaque and tartar buildup. If you have any questions about our restorations, then contact our team today. We want to help you enjoy your best possible smile!
Your Omaha, NE Dentist's Office Provides Same-Day Crowns
Pacific Hills Dental is ready to transform your smile's health and beauty in only one visit. If you have questions about how we treat smiles with a restoration, then contact your Omaha, NE, dentist's office at (402) 330-2243.