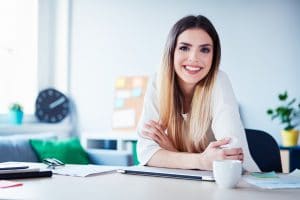 Once your restorative dental work is completed, you can regain confidence in your appearance as well as your ability to bite and chew food without difficulties. At our Omaha, NE dentist's office, we can actually finish a patient's restorative treatment in as little as one appointment when they need a dental crown placed. For many other dental practices, the procedure involved in making and placing a crown will require at least two visits, as they need to enlist the service of a third party dental lab to provide the custom restoration. Our office has CEREC technology that enables us to measure your tooth, digitally design your crown, and produce it in as little as a single appointment!
When Dental Crowns Are Necessary As Part Of Treatment
Dental crowns are used when injuries or dental decay lead to permanent damage to your tooth structure. Larger cavities can require more support than dental fillings are capable of providing, making it necessary to use a more supportive restoration. Injuries can also call for treatment with crowns in order to provide support after chipping or cracking. To fully treat a tooth that requires a crown, it may be necessary for us to perform root canal therapy in order to address internal problems that are affecting your dental health.
Receiving Your CEREC Dental Crown
A CEREC dental crown is customized to fit over a tooth comfortably, and without negatively affecting its neighbors. This requires careful measuring. We have the technology necessary to take digital measurements of the tooth which we then use to carefully design the restoration that you will receive. Once the crown is properly designed, an in-house machine will produce a ceramic restoration that is ready to be placed on your tooth. The ceramic crown can be tinted to match the color of your teeth, which means it can provide cosmetic as well as restorative support.
Rely On Your Dentist For Help In Preventing Future Problems
While it can be a relief to know that same-day crowns are available, you should make preventive care a priority so that you avoid problems that require any restorative dental services! Your daily approach to good oral hygiene is important. To further support your smile, make sure that you regularly see your dentist for routine exams and cleanings.
Your Omaha, NE Dentist's Office Makes Same-Day Crowns With CEREC Technology
Pacific Hills Dental is prepared to restore teeth with same-day crowns! After measuring your tooth carefully, we can design and produce a restoration in one appointment and give you lasting support for your smile and bite. If you have questions about restorative dentistry, or to discuss any other services available at our practice, contact your Omaha, NE, dentist's office at (402) 330-2243.