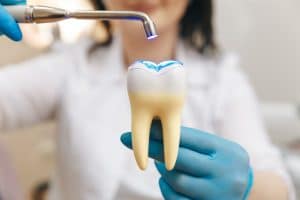 When a cavity forms, your smile becomes vulnerable to not only to toothaches and tooth sensitivity, but the risk of an infection as well. To prevent serious discomfort, or even the loss of your tooth, you need to undergo treatment with a dental filling. In today's blog, your Omaha, NE, dentist explains how we treat cavities with a lifelike composite resin dental filling.
The Causes of a Cavity (and the Dangers)
Each of our teeth is coated in tooth enamel, a special material that is very strong and protects the sensitive inner tissues of each tooth from exposure to harmful bacteria, keeping bacteria and infections at bay. However, injury to your teeth, or weakened enamel due to erosion caused by plaque and tartar, could mean the onset of cavities. Once a cavity starts, it will grow with time, eventually exposing the inner pulp, your tooth's nerve center, to bacteria and enabling an infection to develop. To avoid painful symptoms and tooth loss, you should let us know when you experience sensitives teeth or a toothache, and attend six-month checkups so we can keep a close eye on the earliest signs of demineralization and enamel erosion.
Composite Resin Restorations
If we discover a cavity, then we will likely administer a filling to treat the issue and protect your smile. We begin by offering a local anesthetic to keep you comfortable. We then remove any and all decay and thoroughly clean the tooth. We prepare the filling material and place it into the decayed portion. Made from a metal-free material known as composite resin, this is a blend of glass and acrylic that can be tinted to match the color of your tooth. We then cure the material under a light and sculpt the tooth in the process. Finally, we polish the tooth to ensure a more lifelike appearance.
The Benefits of Metal-Free Treatment
Using a metal-free material offers a number of benefits. First, this makes the filling safe for pregnant women, as well as children and the elderly. The restoration is also safe for anyone with metal allergies. The material can of course be shaded to ensures a more natural look, and it is less likely to change shape over time, which could otherwise expose inner tissues and increase the risk of decay forming once more. If you have any questions about treating poor oral health and cavities with a lifelike restoration, then contact our team today.
Your Omaha, NE Dentist's Office Offers Lifelike Restorations
Pacific Hills Dental wants to help you maintain optimal oral health by treating issues like tooth decay. If you have questions about how we treat decayed or infected teeth, then contact your Omaha, NE, dentist's office at (402) 330-2243.