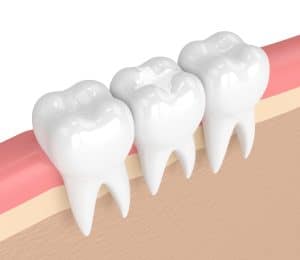 Whether you have developed a cavity from excessive sweets, poor dental care, or even simply from not attending routine check-ups, it is crucial that they are managed and attended to before they progress. Cavities are holes that develop in or on a tooth when it has been exposed to harmful oral bacteria that eats away at your tooth. If left unchecked, the cavity can get bigger as more harmful bacteria develop and wear down your tooth, and can ultimately lead to bigger problems such as plaque formation, tooth decay, and even total tooth loss. Our team at Pacific Hills Dental in Omaha, Nebraska can help.
Metal-Free Solutions for Cavities
As one of the most common forms of preventive dentistry, tooth fillings provide a solution to cavities you may have acquired and can provide a life-like appearance. In the past, metal fillings were used to combat cavities. Now, however, our office utilizes a tooth-colored resin to not only provide a secure seal for the cavity but a life-like appearance as well.
When receiving a filling, your dentist will first clean your teeth to ensure that any harmful or threatening oral bacteria is removed from the affected site. Next, the dentist will apply a resin composite to the cavity in order to fill in the hole, followed by shaping and finally hardening the composite to your tooth. The filling itself provides a more secure and tighter seal to your tooth than ordinary metal fillings do, ultimately preventing the possibility of reinfection to the tooth involved while providing a strong barrier to protect your tooth.
Why You Shouldn't Wait on Fillings
When cavities are detected, it is crucial that the affected area is cleaned and a filling is applied as soon as possible. Negative effects of waiting to get teeth filled include the increased possibility of harmful bacteria making the cavity bigger, paving the way for other harmful bacteria to break down your teeth. This can result in gum disease, tooth decay, and tooth loss. Essentially, the longer you wait to resolve the matter, the more difficult and permanent the damage will be to fix later on. That being said, it is always better to act sooner rather than later when addressing a cavity or oral health issue. To learn more about your options in combatting cavities, contact our office today.
Schedule Your Tooth Filling with Our Office Today
Cavities can be simple to address, but only if you act in a timely manner. At Pacific Hills Dental, we offer tooth-filling services that work best for you, including natural-looking tooth-colored fillings to ensure your smile is at its tip-top shape. To learn more about our tooth-filling services, contact our office at (402) 330-2243 to schedule an appointment with our Omaha, Nebraska dentist today.