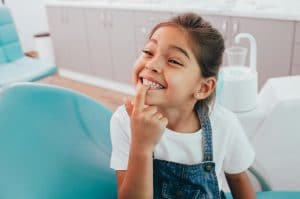 As a parent, you want to take care to keep your little one healthy and happy, and that includes their smile too! In today's blog, your Omaha, NE, dentist explains when your child needs a routine checkup and cleaning visit, and discusses what to expect from these visits. We want to help children of all ages in our community enjoy their best possible smile!
The First Visit
How early should a child first visit the dentist? Well, we agree with the American Dental Association's (ADA) recommendations. Children should first see the dentist within six months of the first baby tooth's arrival. The initially visit isn't really about treatment. Instead we want to make sure the teeth are erupting properly, and to get to know your child and family.
Routine Checkups and Cleanings
Starting at around age three, children should begin to see us about once every six months. These visits involve an exam and cleaning. The exam is a chance to carefully look at the teeth, gums, and oral structures with digital technology, identifying any developing issues in the early stages, including cavities, infection, damage from teeth grinding, developing misalignment, and gingivitis. The dental cleaning portion is an opportunity to remove all plaque and tartar from the surfaces of the teeth. Removing plaque not only lowers the risk of cavities and gingivitis, but also helps fight bad breath and prevent serious discoloration.
Long-Term Benefits
The sooner we diagnose a problem, the sooner we offer treatment. Which means your kids could avoid the need for more extensive treatment options. In addition, we have a chance to talk to your children about the importance of routine care, so they understand their oral health and also understand how to care for their teeth outside of routine checkup and cleaning visits. Since kids become accustomed to seeing the dentist, this helps lower dental anxiety, and also instills good dental habits. Your kids may be more likely to continuing seeing the dentist as adults! If you have any questions about the value of a routine exam and dental cleaning, then contact our team today. We want to help you and ensure your family enjoy stronger, healthier, and more attractive smiles.
Do You Have Questions About Children's Dentistry?
We want to help your child not only understand his or her smile better, but enjoy improved oral health too. Our team offers lifelike fillings, instructions on proper brushing and flossing, and can even provide preventive treatments, such as fluoride treatments and dental sealants. To learn more about our approach to children's dentistry then schedule a consultation by calling Pacific Hills Dental in Omaha, NE, today at (402) 330-2243. We also serve the residents of Papillion, Elkhorn, La Vista, Millard, and all surrounding communities.