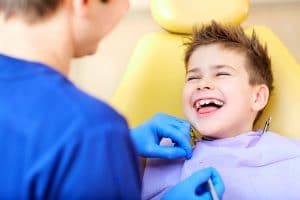 Just like their parents, kids need to undergo routine treatment to avoid cavities and other oral health issues. In today's blog, your Omaha, NE, dentist looks at our approach to children's dentistry, and explains how routine preventive care can help little smiles stay bright and strong for years to come!
Checkups and Cleanings
Children should see us for a checkup and cleaning every six months starting at around age two. An initial exam should happen at around age one, once the first baby tooth has erupted. A checkup enables our team to monitor the smile as your child grows, watching for signs of trouble, such as developing misalignment, baby teeth not falling out on schedule, tooth decay, dental infections, and gingivitis. The sooner we identify these areas of concern, the sooner we can administer treatment to help prevent the onset of serious complications. These visits have also been shown to reduce dental anxiety and help kids gain a better understanding of their oral health.
Fluoride Treatments and Dental Sealants
To help kids with high risk factors for cavities, we may suggest preventing treatments. During the routine exam visits, we may apply a fluoride varnish to the teeth. The fluoride helps strengthen the outer enamel to prevent cavities from forming. We could also apply a dental sealant to the rear teeth. The sealant prevents food from becoming stuck between the rear teeth, since these are hard for kids to reach when they brush and floss. The sealants stay in place for years and wear away naturally with time.
Biocompatible Fillings
If we do discover a cavity, then our team can offer treatment with a filling. The material we use is composite resin, a unique blend of glass and acrylic that can be shaded to match the color of surrounding teeth. After we clean the teeth and apply the material, we cure with a light and then shape the tooth in the process. Finally, we polish the tooth for a more lifelike appearance. In one visit, we halt the cavity and prevent further discomfort, all while ensuring your little one enjoys a lifelike restoration! If you have any questions about how we treat oral issues, or about our approach to children's dentistry, then please contact our team today. We want to help people of all ages in our community enjoy their healthiest smiles!
Do You Have Questions About Children's Dental Care?
Our team wants your entire family to enjoy optimal oral health, even the kids! To learn more about helping little smiles stay healthy, then schedule a consultation by calling Pacific Hills Dental in Omaha, NE, today at (402) 330-2243. We also serve the residents of Papillion, Elkhorn, La Vista, Millard, and all surrounding communities.